BB&T Launches New Prepaid MoneyAccount For Unbanked, Underbanked
Earlier this week BB&T introduced a new account that caters to Americans who are unbanked or underbanked. The BB&T MoneyAccount is a prepaid transaction account with many features of a traditional checking account, including a Visa debit card.
The MoneyAccount from BB&T (NYSE:BBT) is an FDIC-insured account that doesn't require a review of your credit reports. Many Americans who have bad credit and/or tarnished banking histories are usually barred from getting traditional checking accounts because banks consider them to be risks.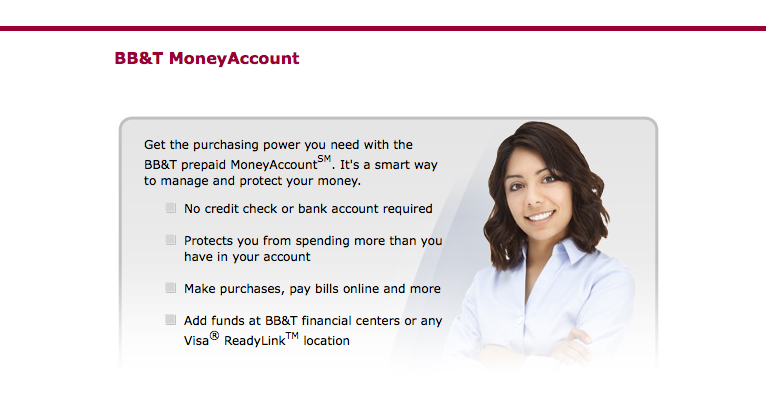 "Nearly 60 million Americans do not have a bank account today or they are underbanked," noted Scott Qualls. "The BB&T MoneyAccount is a prepaid solution that provides our clients with a secure and easy way to access their funds. It also features a simple, transparent fee structure."
With the MoneyAccount, account holders can only spend what they have in their accounts. There are no overdraft fees and it helps to development sound financial management habits.
The BB&T MoneyAccount
The MoneyAccount has a monthly fee of $10 but it can be reduced to $5 on the months that you deposit $1,000 or more.
The BB&T MoneyAccount offers many features of a regular checking account including:
Free Visa debit card for all purchases where it is accepted
Free ATM cash withdrawals/inquiries at BB&T ATMs
Free direct deposit
Free online and mobile banking
Free online bill pay
Protection against unauthorized purchases
A few limits on the MoneyAccount may pose a slight inconvenience. Account holders can load their accounts by: depositing cash and checks at a BB&T affiliated branch, transferring funds from another BB&T account, visiting a participating Visa ReadyLink retail location, or employer direct deposit. Although withdrawals are allowed at an ATM, deposits are not. Therefore, MoneyAccount customers who want to deposit paper checks must visit a bank teller during working hours.
Also, MoneyAccount customers cannot use their debit cards at "pay at the pump" gas stations, where the debit card is inserted without knowing the final price of the purchase. Purchases made where customers have to prepay at the cashier before pumping the gas are allowed.
Ask a Question