House Committee Convenes on Contentious Interchange Fee Rule
Lobbyists for the financial services industry officially reopened the debate against retailers on interchange fee cap rules. They met before the House finance committee, to discuss the cap interchange fees which could pump more than $12 billion out of the industry if enacted this summer.
Individuals representing the Credit Union National Association, the American Bankers Association and the Consumers Bankers Association made their cases known before the House Financial Services committee at a hearing on Thursday, where talk of delaying practice of the rule was put on the table. David W. Kemper, chairman and chief executive officer of Commerce Bancshares, told the committee that implementation of the rule was an attempt by retailers and merchants to pass off the legitimate costs of doing business onto consumers and banks.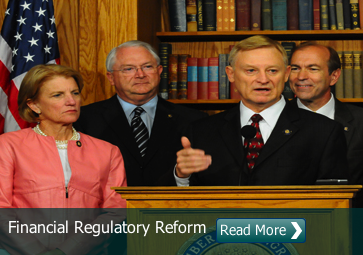 "Every participant in the debit interchange system – every issuer, network, merchant, and consumer – has entered into the system voluntarily," saidKemper. "And every participant must bear the large-scale network infrastructure costs required to build, maintain, and protect debit card services."
Retailers represented by 7-Eleven, on behalf of the Retail Industry Leaders Association, continued to argue that the version of the interchange fee cap rules announced this past December by the Federal Reserve should not be revised.
"The bipartisan reforms passed by Congress a year ago will bring fairness to a broken market that, despite increased volume and advances in technology, imposes fees on merchants three times higher today than in 2001″ said the RILA's executive vice president Katherine Lugar in a Thursday statement. "These long overdue reforms will bring competition and fairness to an anti-competitive system driven by the Visa, MasterCard duopoly."
Committee of Financial Reform
Under the current for of the rule, banks with assets greater than $10 billion would be forced to cap the amount of fees they charge merchants for accepting debit cards at 12 cents per transaction—a drop of more than 70%. The rule, which was attached to the massive Dodd-Frank financial reform legislation signed into law in 2009, has drawn fire from large and small banks and credit card issuers alike. The $10 billion carve-out has also come under attack by credit unions and other smaller financial institutions that have argued merchants would discriminate against them to avoid their higher fees.
You can check out the webcast of the committee's hearing on its official website by clicking here. NOTE: This link is only compatible for those with Widows on their computer.
Read more: Government Approves New Limits on Debit Card Interchange Fees
Check out: Visa Tiered Interchange Fees, Response to Federal Regulations
Ask a Question