Sovereign Bank Limited-Time Offer: Stellar 3.00% APY 5-Year CD Rate
Sovereign Bank is offering an amazing 5-Year limited-time CD rate at 3.00% APY which is available nationwide.
Sovereign Bank's Limit-Time CD Rate Offer
The highest 5-Year bank CD rate available nationwide that was last mentioned on MyBankTracker.com was offered at Salem Five Bank at a rate of 2.75% APY, which required a whopping $10,000 minimum opening deposit. On top of a great APY, Sovereign Bank only requires a small $500.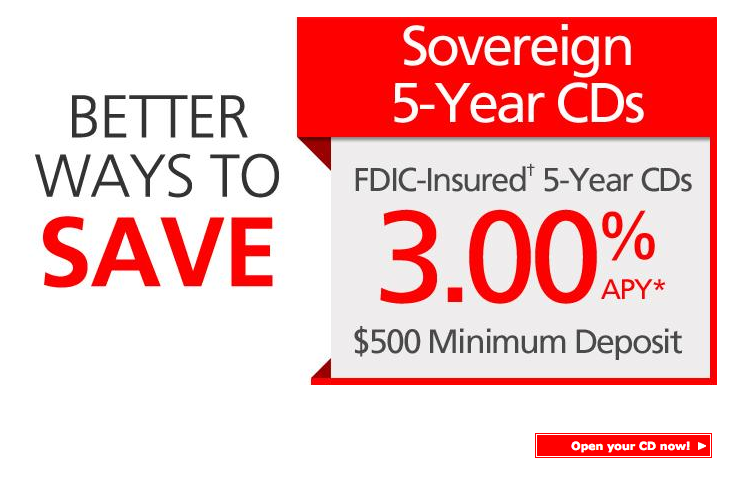 A nationally available 3.00% APY is currently a rare find as CD rates have continued to drop and savings returns remain abysmal. Deposit accounts that are paying APYs above 3.00% are most likely to be found through CDs at small, community banks and credit unions and rewards checking accounts at online banks.
Here's how the Sovereign Bank's 5-Year CD rate compares to the leading nationwide 5-Year CD rates:
| CD Term | Bank | APY (as of 2/15/11) | Minimum opening deposit |
| --- | --- | --- | --- |
| 5 years | Sovereign Bank | 3.00% | $500 |
| 5 years | Salem Five Bank | 2.75% | $10,000 |
| 5 years | EverBank | 2.64% | $1,500 |
Sovereign Bank operates branches in the Northeast U.S. and usually requires customers to be residents of states with local branches. According a customer service representative, Sovereign Bank has instituted a new policy that opens up CD accounts to customers nationwide while savings and checking accounts remain limited to the Northeast. The representative also said the early withdrawal penalty for the 5-Year CD is 12 months of interest.
There is another special 18-Month CD available at Sovereign Bank that is paying 1.25% APY, which is not up to par with the other 18-Month CDs available. In fact, the leading 12-Month CD rates top the less attractive 18-Month CD rate from Sovereign Bank.
Certificate of deposit accounts at Sovereign Bank can be opened online, through the phone, or in person at a local branch.
If you would like to find and compare other CD products available, visit the CD rates page.
Ask a Question