Food Prices Rise: FAO Reports
The Food and Agriculture Organization's (FAO) Food Price Index rose for the seventh consecutive month and hit a record high in January. These global prices have fed into significant increases for merchants, which resulted in price hikes for consumers.
The FAO Food Price Index is a measure of the monthly change in international prices of a basket of food commodities. It consists of the average of five commodity group price indices: cereals (wheat, corn and rice), edible oils/fats, dairy, sugar and meat.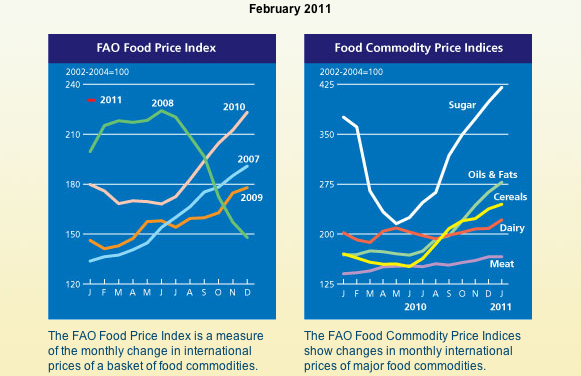 While sugar has been making the highest leaps since the new decade, it slowed this past month in comparison to dairy and edible oils.
| Index | Percentage rise since December |
| --- | --- |
| Cereal | 3% |
| Oils/Fats | 5.6% |
| Dairy | 6.2% |
| Sugar | 5.4% |
| Meat | 0% |
What this means for consumers
According to the United States Department of Agriculture (USDA) the average cost of food at home for people between the ages of 19 to 50 years was $252.90 for the month of December. This is only a $2.25 rise from what it cost in November. However, while your grocery costs may only increase slightly per month depending on where you shop and what you buy, the rise in food price indices has a much broader reach. The sugar that coffee shops put in your morning coffee may cause them to increase prices. Restaurants as well are impacted by all of the above materials in one way or another.
You do not necessarily need to change your entire diet, but you may have noticed that groceries that you buy consistently like bread, cheese and meat have risen slightly. Let us know in the comments section below if you have been paying attention to rising food prices or how you have changed your spending habits.
Ask a Question