Bank of America Tests NFC Mobile Payments on BlackBerry Smartphones
Bank of America® has been inviting select customers to participate in a trial to test mobile payments on BlackBerry smartphones in Atlanta, New York, and San Francisco.
Bank of America® (NYSE:BAC) launched tests in the fall where iPhone users deployed NFC technology in New York City's subway system. The iPhone was attached to a specially designed case which housed a microSD chip capable of near-field communications. Rather than swiping a MetroCard, the subway system's traditional payment form, testers waved their iPhones at turnstiles that accepted Visa payWave or MasterCard Paypass cards to pay for their rides.
As the test for iPhones have closed, Bank of America®'s upcoming trial will test similar NFC technology on BlackBerry devices.
BofA's Mobile Wallet Trial
The new program is dubbed the "Mobile Wallet". The trial is open only to those who received an exclusive invitation.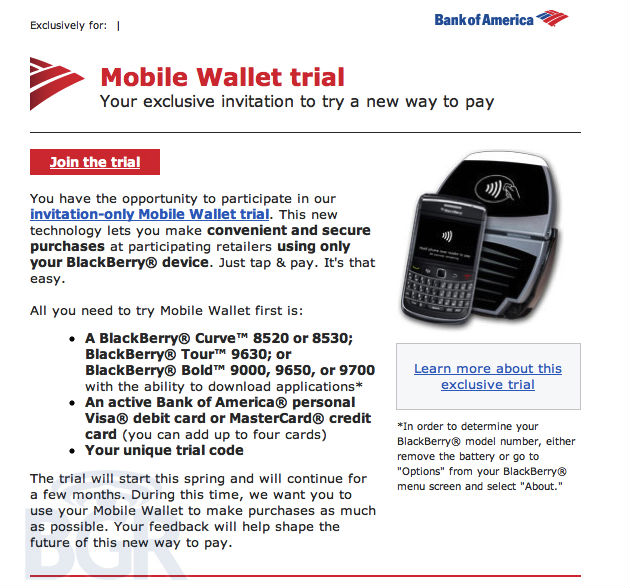 According to BoyGeniusReport, customers who are invited will need a supported BlackBerry device and an active Bank of America® Visa debit card or MasterCard credit card. Bank of America® will send out a new custom battery cover and microSD card for participants in the Mobile Wallet program.
Supported BlackBerry phones include:
BlackBerry Curve 8520 and 8530
BlackBerry Tour 9630
BlackBerry Bold 9000, 9650, and 9700
The trial is expected to begin March 28 and last throughout the spring season in Atlanta, New York, and San Francisco, reports Bank Systems & Technology.
Are you a Bank of America® customer and BlackBerry user? Do you plan to use this Mobile Wallet Feature? Tell us your story in the comments below:
Ask a Question