For Dr. Seuss' Birthday: His Quotes on Success
In honor of Dr. Seuss' birthday, MyBankTracker decided to look up our favorite Dr. Seuss quotes of all time. We were surprised to find how much can be taken away from a few sentences written in rhyme.
Dr. Seuss, or Theodor Seuss Geisel, was born on March 2, 1904 and would have been 107 today. Best know for his Children's Books, Geisel also worked on advertising campaigns and did some political cartoons. These next quotes have been taken from various works published by the author.
1. "Don't cry because it's over, smile because it happened."
This famous quote is most often uttered after breakups, but we thought about applying it to another relationship: employee-employer. With the economy slowly recovering employment is still not where it needs to be. Many Americans are still jobless, while others are in constant fear of being laid off. If you have gone through the unfortunate experience of losing your job it can be difficult to see any silver lining.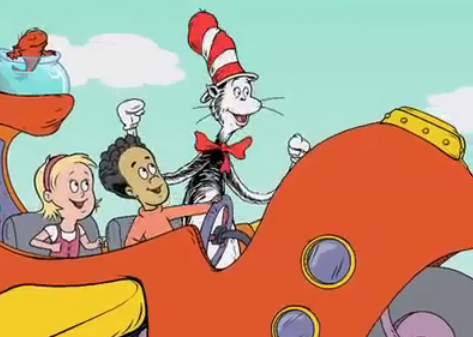 This quote represents the attitude you should have when it comes to looking for other jobs. Having the experience of another job on your resume adds a lot of value to you as an employee. Leverage your experience to strengthen your resume and interview. If you focus on the skills you learned and apply them to the jobs you are applying for, you can put yourself a step above the rest. Going into an interview with a positive and confident attitude will make you memorable.
2. "Think left and think right and think low and think high. Oh, the thinks you can think up if only you try!"
This quote says "think left and think right and think low and think high", applied in a business setting, this means to exhaust every idea. It is crucial to be open-minded when considering different business ventures, but at the same time you have to plan for everything. A weak economic climate is the perfect for entrepreneurs. Everyone has that secret dream job they always wished they could pursue. If you are one of those day-dreamers that has always wondered 'What if' then change it to 'Why Not'.
If you are serious about starting your own business make sure to check out this article on 5 entrepreneurial mistakes to avoid.
3. "When he worked, he really worked. But when he played, he really PLAYED."
Are you one of those people who is always working? Even when you're on vacation you are checking your phone under the table? Well, stop. In order to be productive in the work place, you have to take breaks and relax. We are not saying stop coming into work on fridays or start taking three hour lunch breaks, we are just saying take some time to play. Even Nike realized the importance of giving their employees a break when they introduced 'nap time' into the work place.
There have been numerous studies that connect happiness with productivity, so make sure that you find time in your week to escape the stresses of the work place and find something that makes you happy.
4. "A person is a person, no matter how small."
Every work environment has a different dynamic, but this quote can be applied universally. Besides being a good person, making connections and respecting everyone you meet is an extremely savvy business-move. From the barista to the top CEO, when interacting with a new acquaintance you should treat them with respect and kindness. In the work place, this can result in important connections which can lead to favors further down the road.
5. "And will you succeed? Yes indeed, yes indeed! Ninety-eight and three-quarters percent guaranteed."
Everyone wants to succeed, but not everyone knows how to go about it. MyBankTracker thinks the key recipe for success is believing that you can reach it. There will always be obstacles and bumps on the road to success, it is the individual that lets these hiccups stop them that doesn't reach his or her goals.
You must have a positive attitude and an undeterred drive with these two things you will succeed, ninety-eight and three-quarters percent guaranteed.
Ask a Question