Online Banking Fees May Be in the Close Future
This week, Bank of America locked out most of its 29 million online banking users due to a glitch. The buzz and tweets generated by this error, were a quick reminder of the large role online banking has on our money-management habits. Though most of us enjoy this level of efficiency at no charge, signs are beginning to point to banks looking online for the next round of fees.
If you pay bills, transfer money, or review statements online, would you switch or continue to do so if your bank started charging? As more consumers begin to rely on online banking to manage their money, banks have more opportunities to introduce new fees. Whether you have alerts, bill pay, or money management tools offered by banks like US Bank and Wells Fargo, it costs money to provide these services and soon enough banks will expect a return.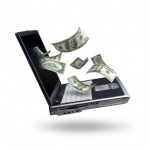 Even though these services cost banks, they have been offering them free for years – why the sudden change? The universal response has been that The Federal Reserve started applying a number of rules, which essentially cost the banks billions of dollars. Most recently, a rule was proposed to drop the amount banks can charge merchants for debit transactions by 75 percent, going from 44 cents to 12 cents, causing lost of almost 57% in revenue (CardHub.com).
People Stop Online Banking When Fees Are Added
According to a survey by Mintel Compermedia, a financial services Market Research Company found that 79% of banking customers visit their bank's website daily.
Other then reviewing their account statements, bill pay is one of the most popular online banking features. In asking participatants about online bill pay, 80% said they would stop using their bank's online bill pay services if they started being charged.
These findings hasn't stopped mega bank, Bank of America, to implement this exact fee. Earlier this year, the bank started charging a $5 monthly fee on its new Essentials checking account. To avoid the fee, customers either had to stop using the service or upgrade to the eBanking account, which carries a $9 monthly fee if you don't do all your banking online.
If we apply this $5 fee to the results from the study, just 7% of consumers would continue using online bill pay. For Bank of America, they may be using this fee as a way to push their members to more expensive products.
Another online service poised to see fees applied are banking Personal Finance Management tools. Aside from the fact that third-party sites already offer these same services for free, some financial institutions such as Portland, OR based Unitus Community Credit Union, charges its 68,000 members a $2 a month (after a 30 day free trail) if they choose to use the tool.
Though no statistics are available to find out if this fee has caused decreases in registration, if they show a relatively strong success rate, we could expect to see larger banks such as US Bank and Wells Fargo who offer the same tools begin charging.
Creating Value in Online Banking
Signs indicate this trend of charging for online banking is definitely coming and studies show most customers will initially be upset and maybe even leave their bank when fees pop-up. Personally, I am not really against banks charging fees (or any company for that matter) if there is a fundamental value. What we find with today's fee-changes is nothing (besides the cost) changes while fees continue to go up — this is hard to accept.
Also, the finger pointing towards the Financial Reform needs to stop. This means absolutely nothing to the consumer, and in the end will only leave them feeling pissed, upset and wanting to take their business elsewhere.
If the end goal is to start apply fees to online banking services and tool, banks need to recognize that today's technology is changing at a speed that makes it hard for consumers to fully recognize or understand the value that these services or tools are offering. Susan Wolfe, VP of financial services at Mintel, makes a strong point when saying, "Many of the offers we see state that online banking can help customers gain control of their finances or better manage them. But they don't go into a lot of detail about how that really happens."
Ask a Question