Bank of America: Mobile Check Deposit Feature Expected to Launch Q2 2012
(UPDATE2: Bank of America's mobile check deposit feature has launched.)
(UPDATE: Bank of America's mobile deposit feature has been pushed back for launch in the second half of 2012.)
The ability to deposit checks on mobile phones is a highly anticipated feature among Bank of America customers, who can finally expect it in 2012.
In an effort to keep up with the innovations in mobile banking, Bank of America (NYSE: BAC) has been running tests for its own mobile check deposit feature. Eagerly awaiting the arrival of the highly demanded feature, customers of the largest commercial bank in the U.S. may have to wait another year.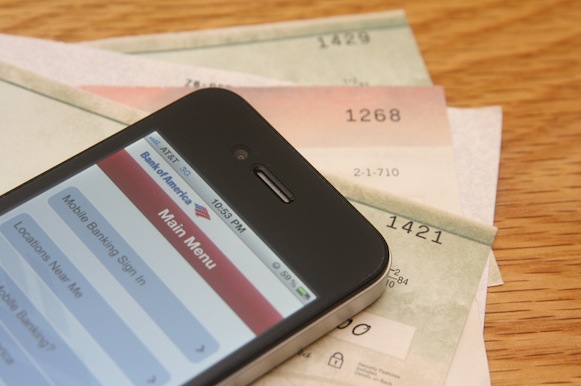 Tests in Progress
In October 2009, American Banker reported, from people familiar with the project, that Bank of America is testing its own mobile deposit service on Apple's iPhone. The feature allows customers to deposit checks simply by taking photographs of the front and back sides of the check.
While it remains unclear whether development and testing began in 2009, the feature is definitely coming. " Bank of America conducted a Mobile Remote Deposits market trial during the first half of 2010. The trial was well-received by our customers and we have added the capability to our roadmap," a Bank of America spokesperson, Tara Burke, said in an email.
One More Year for BofA Smartphone Users
According to an anonymous source, Bank of America and Merrill Lynch employees are entering the beta testing stages of the mobile check deposit feature starting this month. With over 5 million mobile banking customers, Bank of America will have to be well prepared volume-wise and security-wise to process a large number of mobile deposits.
Burke did not confirm whether employees are testing the feature. "Currently, we are targeting a Q2 2012 launch and will deploy on the most popular mobile platforms. This capability reflects the growing appeal for the convenience of Mobile Banking services and a demonstration of how Bank of America is providing relevant solutions for day-to-day financial management."
Mobile remote deposit capture was pioneered by USAA Bank in August 2009. Chase, one of Bank of America's top competitors, introduced their QuickDeposit feature on the iPhone in July 2010 and on Android devices in November 2010. The feature has been praised in USAA Bank reviews and Chase reviews on MyBankTracker.
The expected release of the Mobile Remote Deposit feature comes nearly three years after initial word of testing. Possible factors in Bank of America's late launch are the size of the bank and the existence of multiple mobile platforms. With Apple's iOS, Google's Android, RIM's BlackBerry, and Microsoft's Windows Phone operating systems battling for market share of smartphone users, Bank of America's plan to "deploy on the most popular mobile platforms" will prove to be a major feat. Currently, there are Bank of America apps on iOS, Android, and BlackBerry devices.
Have you been one of the customers eagerly anticipating this feature? OR Do you use the feature with Chase Bank? Let us know in the comments section.
Ask a Question