Fat Tuesday 2011: How Much Mardi Gras Costs
The beads are out and the music is blaring, this can only mean one thing: Fat Tuesday! Mardi Gras is here and most of America is ready to drink, eat and party but how much will these shenanigans cost?
Mardi Gras, the French term for "Fat Tuesday", is celebrated the day before Ash Wednesday each year and most notoriously celebrated in New Orleans, Louisiana.
Madi Gras 2011 Cost Facts
If you have ever had the opportunity to head down to New Orleans on Mardi Gras you know how big of a deal Fat Tuesday is for residents and visitors alike. Each year there is an estimated 1 million visitors that pack into the city to take part in celebrations. Some say that number will triple this year due to the nice weather and later date, last year it took place on February 16.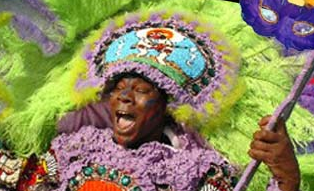 Thanks to the Yahoo! Contributor Network we were able to track down some information on the cost on average for New Orleans to host the massive production.
Floats ($40,000-$1 million)
The parade is notorious its lively participants and extraordinary floats. Construction of the floats vary based on theme and sometimes past years floats can be recycled. The floats that are closer to the million dollar range are the ones that usually take the spotlight as the largest and most extravagant.
City Employee Overtime ($1.5 million)
Hosting millions of visitors in one weekend can take it's toll on the streets of New Orleans. Thanks to the thousands of city workers that put in extra hours after the festivities the city is usually able to bounce back to the way it looked before.
Street Vendor Costs ($285 per License)
One way the city makes some money is by charging the hundreds of vendors. A simple concession stand in the historical district can cost a vendor around $285 just for a permit. Traditional Mardi Gras street food includes hotdogs, corn-dogs, chicken on a stick and shrimp on a stick.
Extra Sanitation Workers
Not only will there be city employees working overtime, but New Orleans will also have to call in back-up including extra machines. According to the article, " Extra street sweepers will cost $19,000 for Mardi Gras. More trash trucks are around $37,000 with more workers. In all, nearly $170,000 is set aside for added workers and garbage contractors for the nine days leading up to Mardi Gras."
Since the city is not involved in organizing and paying for the event, it is the Krewes that are responsible for donating and rallying up the support. To learn more about Mardi Gras visit the official informational website. The nice thing about the parade is that it is free for attendees if you wanted to attend all you would need to cover would be travel and lodging.
Have you ever been to Mardi Gras in New Orleans? Share your story below:
Ask a Question