U.S. Treasury: We've Recovered 70% of TARP Investment
The U.S. government has recovered 70% of the funds it provided the nation's troubled companies through its Troubled Asset Relief Program, the U.S. Treasury recently announced.
With the receipt of $6.9 billion from beleaguered insurance company American International Group Inc. (NYSE:AIG) on Tuesday, the U.S. government is now recovered a overwhelming majority of the $410 billion in TARP funds it began handing out to troubled financial institutions and auto companies in 2008. AIG repaid the government after it closed on the sale of all of its stock holdings in MetLife Inc., according to the insurer's Tuesday statement.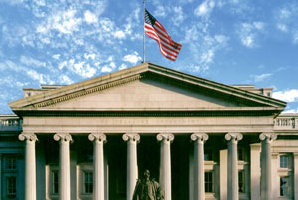 The aggregate proceeds of the stock sale before expenses was $9.6 billion.
"We will continue to take all the right steps to ensure that America's taxpayers recoup in full their investment in AIG," said the company's president and CEO Robert H. Benmosche in a statement. "Thanks to the hard work of AIG's employees, we have made extraordinary progress, which I am confident we will continue."
The government provided AIG with a roughly $69.8 billion cash investment in two payments made in November 2008 and April 2009.
President Barack Obama's 2012 budget estimated that the TARP program would cost U.S. taxpayers roughly $48 billion, though the inclusion of the Treasury's common stock holdings in AIG brings that cost down to $28 billion, according to a Tuesday statement released by the Treasury.
Read: Fifth Third Bank TARP Repayment of $3.4 Billion Brings Treasury Closer to Goal
Check out: AIG Repays $4B of Bailout Money
AIG Investment Shields Government from Auto Industry
To date, the U.S. Treasury has recovered $287 billion in repayments through the TARP program, with about 70% of the outstanding disbursements currently concentrated in both AIG and the auto industry, a representative from the U.S. Treasury told MyBankTracker.com. Any profit the government makes on AIG is expected to offset the $14.8 billion in losses the government expects to incur from its investment in the auto industry, they added.
Click here to view the Treasury's latest transactions report, which provides information on the status of all of the government agency's TARP investments.
Check out: Breaking Down the TARP Program's Progress
Ask a Question