American Express and Foursquare to Debut New App at SXSW Festival
Last week we filled you in on a new partnership between American Express and foursquare that will be available to SXSW attendees, and now the deal has been officially announced. If you plan to attend the five day festival, you'll definitely want to take advantage of the new offer that can save you tons of money during the much anticipated festival.
Starting March 11, American Express (NYSE:APX) and foursquare will debut a new interactive tool at SXSW®Interactive that will allow attendees to link their cards with their foursquare accounts to receive deals and offers from over 50 participating vendors.
The way the deal works is simple: once an American Express cardmember has successfully linked their cards to their foursquare account profile, they will be able to automatically deals by uploading them to their American Express card within an app. In addition, SXSW attendees using the feature can also earn $5 back for every $5 they spend at more than 50 merchants in Austin. And, if that wasn't enough, you'll automatically donate $1 to the Grounded in Music™—a nonprofit organization that promotes music education in underserved public schools in and around the Austin.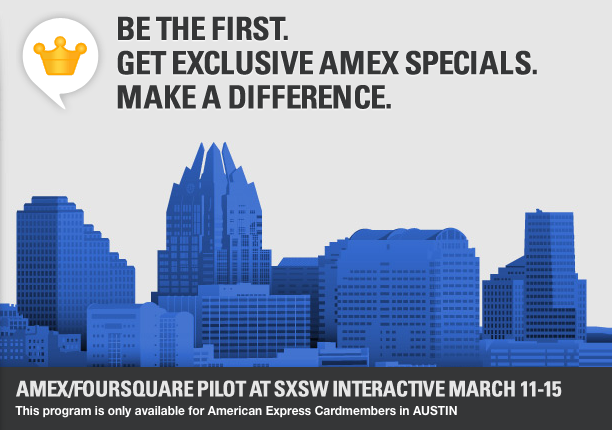 While American Express has used this technology, called the American Express API, in the past, this is the first time the company has used it with a third-party partner. Some of the deal's featured merchants include Whole Foods Market and W Hotel Austin.
Just remember to follow these four steps in order to take advantage of great foursquare deals and redeem your $5 back rewards:
Link any American Express card with your Foursquare account
Check in at any participating Foresquare vendor in Austin to unlock their offer
Click the "Load to Card" button on your American Express App to get an offer or deal
Make a purchase of $5 or more to get $5 back
Read: American Express (AmEx) Partners With Foursquare To Link Cardholders
Ask a Question