Bank of America Offers Aid on Military Mortgages
In a move to support our troops, Bank of America (NYSE:BAC) has introduced new mortgage terms that offer additional aid to U.S. military customers who are behind on payments as they prepare to leave for active duty.
The new extension goes into effect April 1, and will impact close to 1,000 troops. Bank of America will introduce a two-step process, that begins with principal forgiveness, which gives borrowers a chance to reduce the amount owed on their mortgage to as little as 100 percent of current market value. If the reduced amount is not enough, the new aid also offers to drop interest rates by 4 percent for those eligible for the Servicemembers Civil Relief Act (SCRA). Along with the interest rate drop, Bank of America will also add a team that will specifically assist military personnel.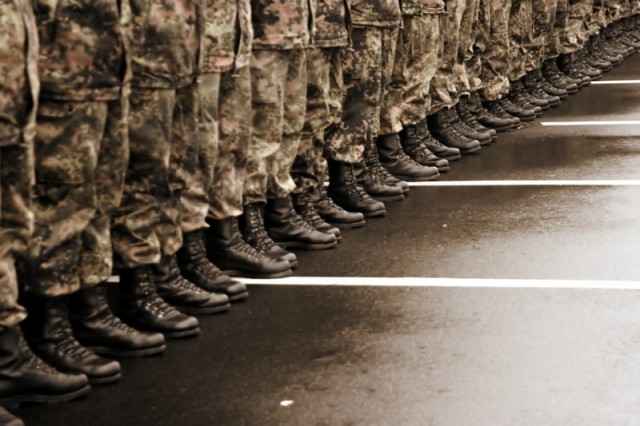 Executive vice president for Bank of America, Terry Laughlin commented on this change in a statement by saying, "Military men and woman face extraordinary circumstances, and they make unique sacrifices for all of us…(to) address the heavy burden of financial matter at the home that can weigh on the those are protecting our freedoms."
2011 the year of Military Mortgages
2011, has been an interesting year for military families. As we reported in February, JPMorgan Chase issued an apology to 4,500 active military personnel who were overcharged on payments and in some cases, received foreclosed papers.
This incident also lead to JPMorgan to also lower SCRA rates by 4 percent along with increasing medications for jobs, training, and home ownership assistance to both active and veteran military members.
It seems Bank of America is taking the lead by offering additional aid and hopefully in the process avoided the same type of backlash JPMorgan received when their error became public.
For those looking for additional information can call a dedicated mortgage customer service hot-line toll-free at (888) 325-5357. A dedicated team for this program will walk interested parties through all of their options.
With Bank of America now joining JPMorgan Chase in reducing SCRA rates, it will be interesting to see if other national banks follow suit.
Ask a Question