3 New ATM Scams to Watch Out For
Despite heightened awareness and better technology, crooks are continuously making the headlines for new ATM scams to victimize even the most cautious banking customers.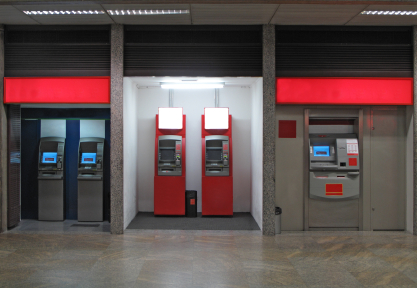 To bank customers, an ATM offers access to their money. To fraudsters, an ATM is a locked goldmine — customers are the keys to unlock it.
Recently, there have been some new tricks of ingenious crooks that allow them to target innocent banking customers.
1. Skimming on entry.
Frequent ATM users may have heard about the increased presence of skimmers, typically low-budget card readers, attached to an ATM's genuine card reader. Krebs on Security, a blog covering electronic security, revealed than a new approach is to install a card skimmer on the key card lock that is used to access ATM-only locations or the lobbies of bank branches during off-hours. Meanwhile, hidden cameras are placed to record PIN entries of unsuspecting customers.
Not only can ATM card reader be tampered with, any device requiring debit or ATM card insertion has the chance of being compromised.
2. Napkin stuffed in cash retrieval slot.
For thieves who are technologically inept, the criminal toolkit consists only of napkins. According to the San Francisco Police Department, a crook stuffed napkins into ATM cash dispenser lots. When a customer tried to make a withdrawal, the cash was dispensed behind the napkins. Once the customer became frustrated or went to look for assistance, the thief would simply remove the napkins and take the cash.
3. Glued buttons on ATM keypad.
Just recently, the San Francisco Examiner reported on another very low-tech ATM scam. The weapon of choice: glue. Thieves glued down the "ENTER", "CANCEL", and "CLEAR" buttons on the ATM keypad. When customers inserted their cards and input their PINs, they found that they couldn't proceed with their transaction, cancel their transaction, or delete their PIN. Once they walked away for assistance, the thieves would saunter over and withdraw cash on the account.
Back to the Basics
Aside from common tips to avoid card skimmers, there are some basics that make you less likely to become a victim of ATM fraud.
You should always be using one hand to cover your other hand as during PIN entry. This safety precaution will prevent against criminals who use cameras to record PINs.
Until you can confirm that you've been logged out, you should never leave the ATM after your PIN has been entered. If you need assistance, call the number on the ATM and don't let anyone use the ATM. Or, if the bank is open, kindly ask a passerby to notify a bank associate of your problem.
Remember that many ATMs have touchscreens, which always offer the option to cancel your transaction if you feel there is something sinister is going on. Also, ATMs will automatically log you out if there is a brief period of inactivity. Simply reserve the ATM until you see that you've been logged off.
Ask a Question