MyBankTracker.com Joins Junior Achievement to Promote Financial Literacy
Just weeks before financial literacy month, students and volunteers gathered in New Jersey this past Friday for a day-long financial workshop aimed at assisting high school seniors. As always, the team at MyBankTracker.com was there to lend a helping hand—here's how it all unfolded.
Nonprofit financial literacy organization Junior Achievement New Jersey Inc., works towards preparing K-12 students for work, entrepreneurship and financial literacy. They continued their efforts this past Friday, March 18, with their Financial Literacy event at the Capital One/Junior Achievement Finance Park in downtown Newark, N.J.
Learn: How to Mint a Money-Savvy Child
The event was lead by 15 volunteers—including yours truly and our co-founder Alex Matjanec from MyBankTracker.com—that lead a total of 68 high school-aged students from low- and moderate income families through different life situations aimed at helping them live within their virtual means.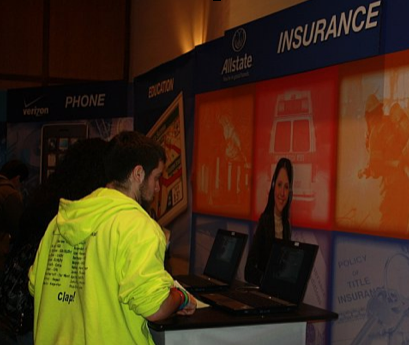 Prior to the event the students had been involved in a month-long, 24-class financial literacy course where they learned about topics ranging from financial institutions, taxes, budgeting and investing. Shortly after the students arrived at Finance Park they were assigned different life scenarios that they would then use to determine a livable budget.
For example, one student may have taken on the role of a single father earning $59,438 per year. Based on his annual earnings, the student was then required to calculate their net monthly income and use that magic number to determine the types of expenses he could take on without going overbudget. Some typical expenses included mortgage and car payments, health insurance, entertainment and clothing for the family.
The program also highlighted the importance of budgeting for common but nonobligatory expenses like savings or investing, and encouraged the students to budget appropriately in order to make charitable contributions.
Daisha Perez, 17, a college senior from the Scotch Plains, NJ-based Union County Vocational-Technical School District with plans to attend college in New York City this coming fall, is just one of several students that feels the program helped give a real sense of the financial challenges they'll face in future.
"[The program] helps you learn to fight the urge to spend," said Perez.
Breanna Reiman, 17, also a senior at UCVTS with plans to attend college, said the program "makes you see what you'll be dealing with in a few years."
Doug Kennedy, Capital One's New Jersey Market President, said in a statement that the skills the students learned at the event were "crucial building blocks for economic success."
Junior Achievement: Helping Children Transition to Adulthood for Close to a Century:
JANJ is part of worldwide network of financial education centers run by 92-year old JA Worldwide, which staffs roughly 330,000 volunteers, 3,208 employees and mentors 9.8 million students in 123 countries across the globe according to its website. JA Worldwide operates on a $32 million in funds annually—money raised by the nonprofit's global offices, individuals contributors, and hundreds of corporations and foundations.
JANJ was originally founded in Newark, N.J. in 1953. A satellite office was opened four years later in Elizabeth, NJ; a second office opened in 1965 in Camden, N.J. and a third office was formed in Princeton in 1985. The four offices eventually merged to form a statewide operation in 2001, and currently reaches 39,000 students in New Jersey, according to the organization's operations manager Stacy Nielson.
The Capital One/Junior Achievement Finance Park program began as a pilot in 2006 in McLean, Va., and since then has expanded to served roughly 58,000 middle- and high school students across the United States as of February 2011.
Check out the organization's website for more information about JA Worldwide's programs and ways to get involved.
Ask a Question