Banks target Mobile Banking for their next round of Fees
The reason people use their smartphone to access mobile banking on a regular basis is simple – convenience. Who wouldn't love the ability to complete banking tasks from anywhere? Financial institutions see it as a way to cut costs, grow customer relationships, and now possibly introduce new fees.
Though still in its infancy, banks have already played with the idea of applying fees to mobile banking. The first feature on their list, mobile deposits. A feature that allows users to snap a photo of a check and remotely deposit the amount into their accounts. Once verified, the user has the option to dispose of the physical check.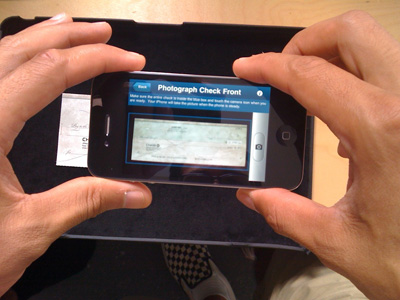 This feature is seen as such a convenience that at a recent mobilecommercedaily.com panel, Scott Moellet, chairman and CEO of MShift Inc., pointed out that if consumers don't mind paying $2 for ATM, why would they mind paying $1 for remote deposit capture.
When USAA launched their mobile deposits feature in 2009, it took less than a year for 1.5 million checks and close to a billion dollars to be deposited. While still small in numbers, applying a $1 fee to this action alone could mean big money for the nations biggest banks.
Mobile Banking Continues To Grow
There is no denying, people love convenience and the mobile phone is set to become the new generation of bank branches. Studies already report that 70 percent of smartphone users access mobile banking and payment services (Mobile Money Study) on a regular basis.
Market Research Company, eMarketer reports that by the end of this year, there will be over a 100 million users who bank online and by 2015, 50% or more of U.S. mobile users will be conducting transactions from their mobile devices. Even with this surge of users, the New York Times recently reported that only 5.9 percent of merchants would accept mobile payments by the same time period.
Mobile Transactions Could Create New Fees
While the vote is still out on who is going to control the mobile wallet, one thing is apparent: banks want to own this market. Mobile banking it set to be the link to reconnecting 70 million unbanked Americans through possible mobile prepaid offerings by the banks. It could also be the answer to getting around the Durbin Amendment restrictions on debit interchange fees.
Starbucks recently shared insights that 3 million consumers have paid using their Starbucks Card Mobile, this news comes at a time when new rules will need to be created for mobile purchasing. Banks will look to lead the conversation on costs to swipe your phone, putting the merchants who are excited by the new interchange fee caps back where they once were.
With such an obvious shift, it only makes sense that the big national banks are looking for ways to cash in. Today's banking market is volatile and every new fee being introduced means the death of consumer rewards service. It seems mobile banking could become another trend of banks taking something convenient and making it profitable – circa 1980's with ATMs.
Ask a Question