Receive Cash Advances From Think Finance Products
With about 60 million underbanked consumers making up a $200 billion market, their money has to go somewhere. Think Finance, a developer of online financial products, aims to provide the underbanked with convenient and affordable alternatives to traditional banking products.
Think Finance, a startup founded in 2001 and backed by Sequoia Capital and Technology Crossover Partners, has recently been named to the Inc. 5000 list, a ranking of the nation's fastest-growing private companies compiled by Inc. magazine and serves over one million customers. According to their mission, Think Finance provides "banking for the rest of us, " which enables banks to serve underbanked consumers profitably by covering technology, risk management and marketing platforms. They currently offer three related products called PayDay One, ThinkCash, and, their latest product, Elastic.
PayDay One
PayDay One's goal is to be the most customer-friendly lender around for those situations that just cannot wait until your next payday. 75% of customers use payday loans to cover expenses like fixing a car, paying for medical care, or covering a monthly bill. If you're a little short on cash, a payday loan may help you save money by avoiding bounced check fees and late payment fees.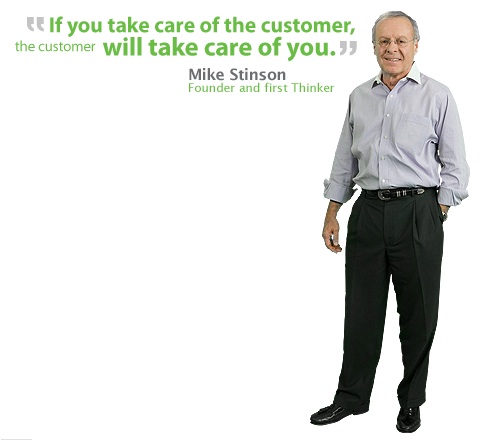 Currently the service only covers 18 states, but it works very simply. Apply online or by phone and upon approval your account will be credited the next business day. All you need to apply for a loan is an email address, active checking account, and regular source of income. However, Payday advances should be used for short-term financial needs only, not as a long-term financial solution. Customers with credit difficulties should seek credit counseling. Click here to find out if your state qualifies for PayDay One loans and what rates you will need to pay on a loan from $100 to $1000.
ThinkCash
Pretty much the same product as PayDay One, with the goal of receiving a cash advance simply by filling in your personal information and having a working checking account. ThinkCash offers consumers better rates than paying late fees, higher loan amounts on future loans for returning customers, and they will report your payment history to a major credit bureau, thus building up your credit.
How much can they save you? Let's assume, for example, that your $100 utility bill was a 14 day loan, and the $47 reconnect fee was your interest, then the equivalent annual percentage rate (APR) would be 1225.36%. If you accumulate a few similar bills over the month, a ThinkCash loan would help you avoid these types of late fees and your APR would be considerably lower: a typical loan of $1,000 has an annual APR of 198.5% with 18 bi-weekly payments of $104.00.
Elastic
The prepaid debit card market has blown up recently, and Elastic is a strong competitor because there are no overdraft fees and no monthly fees if you load $500 or more on your card each month. The Elastic Line of Credit and Elastic Visa® Prepaid Debit Card are separate products that can be used together to provide faster access to cash. Once you have received approval for an Elastic Line of Credit, you will also receive an Elastic Card at no charge. You are not required to activate or use the Elastic Card, and there is no fee if you activate it within seven days of receiving it. There is no activation fee, no fee for signature or PIN purchase transactions and no direct deposit fees.
Some other pricing you may be interested in:
When you get a line of credit, you pay a Cash Advance Fee of $2.50 for each $20.
If you pay your line of credit back in full on or before your due date, there are no additional fees or charges.
You have the option to pay the minimum with ElasticPay, which is 10% of your original principal amount plus a fixed charge based on your outstanding principle.
$2.00 for ATM withdrawals; $1.00 for ATM balance inquiries.
Ask a Question