Beneficial Bank ahead of the curve with Swipe & Save
Many readers may not be familiar with Beneficial Bank due the fact that it's headquartered in Philadelphia, but this bank has a feature that may soon blow up among bigger banks.
Just a few months ago, Beneficial Bank introduced the Swipe & Save feature allowing consumers to earn cash back with their beneficial check cards. Although Citibank introduced a similar feature highlighting coupons and discounts based on the way shoppers utilize their card, there are still important differences to note about Swipe & Save.
How Swipe & Save Works
Swipe & Save takes a look at your spending habits and then offers you similar products that can earn you cash back points. There are four steps to the Swipe & Save process (NOTE: You must have an online banking webpage):
Once you login to your Beneficial Bank account go to the Swipe & Save homepage.
Click on the "New" button in order to see your new offers.
If you see an offer that appeals to you, activate it and use your check card to buy it (works in-store and online).
The cash back will credited to your account, it just may take a few weeks to appear.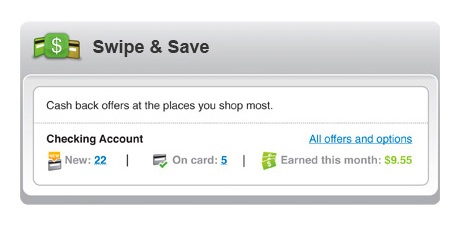 With the Swipe & Save feature, products and deals can be more targeted towards individual consumer spending habits making it easier to save. On the other hand, features like this one also make it easier to spend.
This new feature is bound to catch on as more and more banks turn to different platforms to expand their reach. With the popular trend of combining innovative technology to bring more convenience to banking it is only a matter of time before this type of program is introduced to more banks across the nation.
Ask a Question