TransUnion: Americans More Likely to Make Credit Card Over Mortgage Payments
Americans are more likely to default on their mortgage payments than they are their credit card bills, according to a new survey released by credit agency TransUnion.
The survey, which was conducted on consumers with at least one credit card and one mortgage, showed that for the third straight year American consumers are more apt to pay off their credit card debt than they are their mortgages. Specifically, 7.24% of American consumers who were current on their credit card payments but delinquent on their mortgage payments in the fourth quarter of 2010. The fourth quarter earnings showed a significant jump from the 4.3% of consumers that were delinquent in the first quarter of 2008.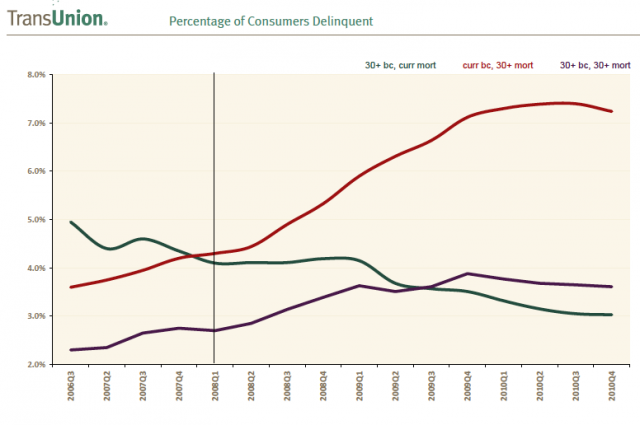 The study, first reported by the Chicago Tribune, also showed that Americans in the opposite predicament—those that are current on their mortgages but delinquent on their credit cards—declined to its lowest rate ever at 3.03%, which is a decline from the 4.1% recorded in the first quarter of 2008.
Americans have been foregoing making payments on their mortgages as a result of declining home property values and rising unemployment, according to the organization's vice president of research and consulting for TransUnion's financial services business, Ezra Becker.
"Consumer preferences are evolving in this new post-recession environment, and TransUnion's payment hierarchy study provides a glimpse into how consumers are prioritizing their payments" said Becker in a statement released by TransUnion on March 29.
High Risk Americans Opt to Make Credit Card over Mortgage Payments:
TransUnion said that its data mainly applied to consumers considered to be "high risk," and affected Florida and California the most. Here's how it broke down in both states and in the country as a whole:
| | United States | California | Florida |
| --- | --- | --- | --- |
| Q3 2007 | 4.0% | 3.5% | 5.1% |
| Q4 2010 | 7.2% | 10.2% | 14.5% |
Read: Mortgage Delinquencies at Historic Highs Despite a Lower Rate of Delinquency
Learn: FICO Research: Effects of Mortgage Delinquencies on Credit Scores
Similar to the previous results, Californians and Floridians in the opposite predicament—those that are current on their mortgage payments but delinquent on their credit card payments—also showed declines. For California that number declined from 3.3% to 2.7% for the same periods, while in Florida that rate declined from 3.9% to 3.2%.
Check out this video below, which provides further insight into this phenomenon:
(polls)

Ask a Question