Wells Fargo Customers Use ATMs to Donate Over $1 Million towards Japan Relief Efforts
If you're a customer of Wells Fargo and made a donation towards Japan's disaster relief at an ATM then give yourself a big pat on the back—your efforts helped raise more than $1 million for the American Red Cross Japan Earthquake and Pacific Tsunami Fund.
Wells Fargo customers had the ability to donate funds at more than 9,000 Wells Fargo ATM locations across the United States following the devastating earthquake and tsunami that ravaged Japan this past March 11. All of the proceeds raised by Wells Fargo's customers will be sent to the Red Cross.
"Our thanks go out to all the Wells Fargo customers and team members who have donated at Wells Fargo ATMs or through other channels," said Wells Fargo Foundation head Tim Hanlon in a statement. "Your support is incredibly valuable as the people of Japan work to overcome a terrible tragedy. We encourage others to consider making a contribution to the relief efforts – large or small, it all helps."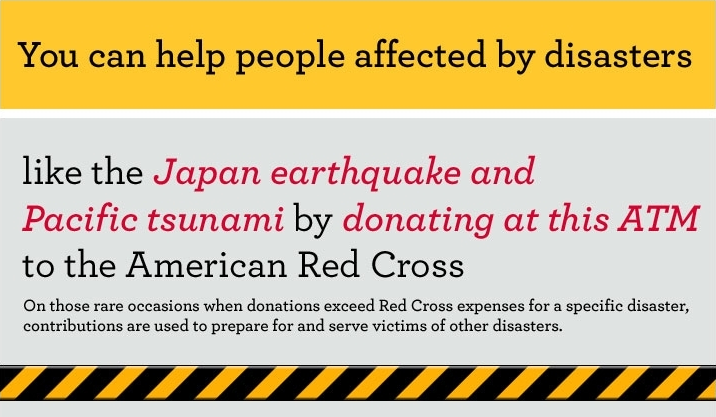 According to Richele Messick of Wells Fargo's Corporate Communications department , the customers had the opportunity to donate between 1 cent to $249.99—the maximum donation value due to tax-related purposes—every time they used a Wells Fargo ATM.
The program, which started on March 14 and was made possible with the support of roughly 1.3 million customers, officially come to an end on April 5 according to Messick, so make sure to make a donation before then if you plan to do so.
Wells Fargo's ATM donation initiative is the first time ATMs have been used to accept donations, according to the bank. Wells Fargo itself donated $500,000 last week to support American Red Cross's relief efforts in Japan, and said it would match the contributions of its team members on a dollar-for dollar-basis up to $500,000.
Numerous other banks and financial institutions across the United States also lent their financial support to the Red Cross to aid Japan's disaster relief efforts. Goldman Sachs Bank USA made the largest donation recorded by MyBankTracker.com, pledging $6.1 million towards Japan's relief efforts. Other banks and financial institutions that pledged funds included Bank of America® ($1.2 million), JP Morgan Chase ($5 million), Morgan Stanley ($1.22 million), U.S. Bank ($100,000) and American Express ($100,000).
Read: Banks, Financial Institutions Support Japan Quake-Tsunami Relief Efforts
If you're still looking for ways to contribute towards Japan's relief efforts go to the American Red Cross's donation page, or text "REDCROSS" to 90999 to make a $10 donation that will be added to your phone bill.
Ask a Question