Mobile Check Deposits to Spark an Online Bank Revolution
Mobile check depositing is the latest innovation in banking technology that is getting widespread use in the hands of everyday banking customers. With this feature now available, a new threat arises for big brick-and-mortar banks because remote deposit capture is set to spark a revolution for online banks.
As if the news hasn't been swarming the headlines enough already, free checking accounts continue to tread on a path towards extinction. Currently, the four biggest banks operating in the U.S. no longer offer free checking accounts. Instead, the free checking replacements require a choice of conditions that must be met in order to waive the monthly maintenance fee.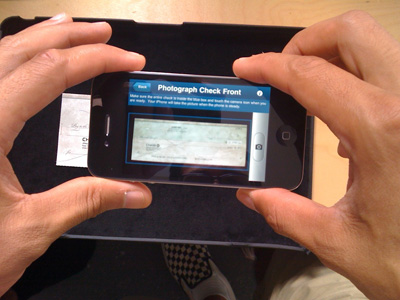 Obviously, customers have been upset with the changes and vowed to switch banks – and many opted to take their business to popular online banks such as Ally Bank and ING Direct, which offer free checking accounts.
With the rapid adoption of technology, these online banks have the opportunity to capitalize on the customer exodus from big banks and the potential to revolutionize the banking landscape.
Mobile Check Deposits More Relevant Than Ever
Mitek Systems (OTC: MITK.OB), a leader in advanced imaging and analytics software developer for financial institutions, announced that five of the top 10 retail banks in the U.S. have signed on to deploy a mobile check deposit application.
Chase is the only one of four largest banks to offer a mobile check deposit feature through a smartphone application. Bank of America® is expected to launch a similar feature in 2012. Although not available to the majority of banking customers, this technology is pivotal to the banking industry and will most likely be offered by more banks in the near future.
"More than ever before, banks and credit unions are realizing that offering their customers a mobile check-deposit capability is a competitive imperative as they respond to consumers' growing appetite for mobile-banking options on their smartphones," said James B. DeBello, Mitek President and CEO, in a press release.
Online Banks to Step on New Terrain
For the brick-and-mortar banks, the feature only represents an extended convenience to a common transaction that their customers can also perform at an ATM or through a teller. But for online banks, a mobile check deposit feature nullifies one of the major disadvantages of banking with an online-only institution.

Customers who now use online banks have to either mail in their checks or deposit checks into another bank account and transfer over the funds. Lost checks and the days of waiting for check clearance posed an inconvenience for online bank customers, who've ditched the big banks to escape checking account fees.
USAA was a pioneer in the deployment of remote deposit capture in 2009 – the bank introduced check-image deposit capabilities through scanners and smartphones. According to the USAA bank reviews, the combination of mobile check deposit features and stellar customer service experiences were worthy of compliments. USAA continues to offer free checking accounts.
The two online banks primed for growth is Ally and ING Direct. In addition to popular high-yield savings accounts, both offer free checking accounts that also earn interest on deposits. Ally is testing an eCheck Deposit feature that allows customers to deposit checks via a scanner but doesn't yet have a mobile app. ING Direct has smartphone apps and the mobile deposit feature is reported to be in the works.
By implementing a mobile deposit application, these online banks can knock down the fence that sets them apart from banks with physical branches.
Could you survive solely with an online bank? How would your banking behavior change if more online banks launched a mobile check deposit feature?
Simon Zhen is the Wednesday columnist and regular journalist for MyBankTracker.com. He concentrates on personal finance and bank rates, products, and services. Follow him on the MyBankTracker.com Community or on Twitter @Simon Zhen.
Ask a Question