MyBankTracker Reviews Brand New Technology from Intuit's Innovation Gallery Walk
On Tuesday March 29, MyBankTracker participated in Intuit's Innovation Gallery Walk in New York City for a look at Intuit's new and unreleased experiments – social, mobile and global offerings that are changing how and where their customers manage their finances and do business.
Among the many fascinating and futuristic products and innovations that we observed, a few caught our eye specifically because of their functionality and how they explored the bounds of technological advances in finance and banking. In-market experiments and pilots, as well as more established offerings, showed the strength and promise of a network of interconnected platforms and services that are mobile and global.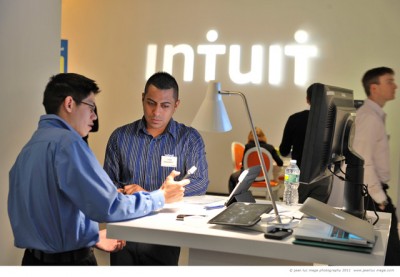 The two products that we were most interested in and would like to highlight and review are:
Transforming Consumer Banking
Mobile Technology Explorations
Transforming Consumer Banking
If you are someone who is generally on top of all your bills and payments, then this product may actually transform the way you view banking. The product will allow financial institutions to offer a deeper value for a consumer's online and mobile experience in banking. Small to mid-sized financial institutions will be able to provide mobile solutions offering consumers the ability to easily manage critical tasks on the go to:
make better financial decisions and make it easier to navigate tax time
manage bills and gain control over spending
save money on the products and service
When your financial institution launches this platform, which over 100 banks have already done, you will be able to see it when you log in to your online banking account. It will show you a list of all your accounts and balances including all your expenditures. Here is where it gets fancy. The debit card that is linked to the account acts almost as a tool for different businesses to compete against each other passing savings on to you. Say you go to Applebees one night for dinner. Well, Outback Steakhouse wants your business as well so they will work with your bank and a offer a discount, which will appear in a drop-down including all your other available discounts (Walmart, Gap, etc). Now, you can choose to activate it onto your card where it will remain valid for a certain amount of time and when you go to Outback and pay with your card, the discount will automatically be applied, no coupons or explanations necessary.
Mobile Technology Explorations
Mobile Technology Explorations and prototype solutions enable up-to-date financial information and transactions anytime and anywhere you have mobile service. It even includes a demo of GoPayment, Intuit's mobile swipe card technology. The point of it is to create a "smarter wallet," but also a mobile wallet by providing the ability to conduct real time payments and account balances straight from your phone.
Read: Mobile Check Deposits Spark an Online Bank Revolution
The most exciting function of your mobile wallet is the ability to transfer funds simply by touching phones. The money transfers from card-to-card, business or personal. With the ability to access all your cards from your phone, you can purchase a coffee or even pay back the ten bucks you have owed your friend for weeks. With this type of technology, the possibilities are endless, as long as the banks allow the syncing to pass along Intuit's secure platform. That is why it is called a mobile wallet – because your bank account and your wallet will essentially merge. It would be like having all your cash on you at all times, without the risk or the bulk.
Ask a Question