American Express Travel Launches NEXPEDITION
If you love to travel, are on a budget and refuse to use another cookie cutter travel guide to help you along the way then American Express Traveler's NEXPEDITION program could be just up your alley.

Through the new program, 20- and 30-something travelers can pay to have a travel itinerary planned to fit their particular interests, with domestic trips beginning at $1,ooo and international trips beginning at $2,500.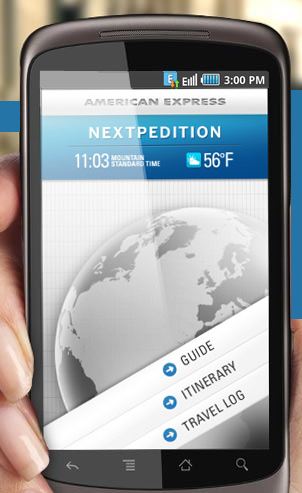 How Does it Work:
First, you'll be prompted to take a short online quiz on the program's official website, NEXTPEDITION.com. There you'll have the opportunity to find out what your travel sign is. Do you like to party all night at best clubs VIP style? Maybe you're a Disco Trekker. Or, maybe you just like to love to shop and travel in style? Then perhaps you're a Poshaholic. Maybe you're just a lover of great food and exciting new culinary flavors—a Tasteblazer, if you will. Whatever your sign, NEXPEDITION is there to find the best trip to match your needs and wants.
After you've determined what your travel sign is, you'll next have the opportunity to speak with a NEXPEDITION consultant that will create your perfect getaway. All trips must be no less than a week and booked up to 30 days in advance. After a trip is created for you, you'll receive a package that includes your travel voucher and a Travel Console—a digital device carrying all the mystery details of your trip. The Travel Console also allows you to share all of your experience instantaneously with friends and family on a Facebook travel log.
If you're a risk-taker that hates planning trips, then NEXPEDITION's program is great because it does all the work for you. You'll also have to opportunity to book a trip for either yourself or invite additional guests to join you. On the other hand, the program may not be great for those who enjoy a little flexibility in their trip planning. For example, you'll be obligated to stay at the hotels suggested to you, even if you know of a better location.
Check out the program's frequently asked questions section for more information about the program. And, if you've ever booked a trip through American Express Travel's NEXTPEDITION program or plan to do so, let us know in the comments section.
Ask a Question