IRS's IRS2Go App Tops 250K Downloads
The IRS2Go App reached a milestone today as it was downloaded 250,000 times since it's debut in late January. The App allows taxpayers to check the status of their tax return applications.
The recently launched app, which is available for free at the Apple App store, allows taxpayers with smartphones and tablets to check the status of their tax refund as well as other useful tax information and tips. To gain access to their information, taxpayers are required to enter their Social Security number, pick the filing status they used on their tax return and the amount of the refund they expect to receive.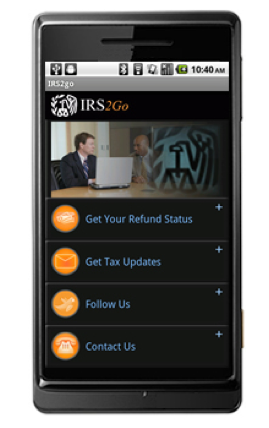 Read: IRS Launches Free IRS2Go Tax App for iPhone and Android
Check out: 4 Tips For a Quicker Tax Refund
Taxpayers that e-file can access this information within 72 hours after receiving a confirmation from the IRS that their return was received, while paper filers may need to wait anywhere between three to four weeks.
Of the 142 million tax returns filed for the tax year 2009, roughly 70 percent were e-filed, according to the IRS, which said in a statement that it expects that number to increase for tax year 2010.
Government Apps Rise to Prominence:
The IRS's IRS2Go app is just one of several dozen applications the federal government has released since smartphones and other app bearing devices have risen to prominence. Other free government apps can help you make sure your car is environmentally friendly, test the speed and latency of your mobile connection or even calculate your body mass index (BMI).
For a list of all the government apps available to you check out USA.gov. And, for more information about IRS2Go, view the video below:
Ask a Question