Ally Bank eCheck Deposit Officially Launches
This morning Ally Bank announced the launch of the much anticipated eCheck deposit feature. The bank made the announcement over their Twitter and Facebook feed and have already started to receive much praise from Ally customers.
In the announcement Ally Bank said, "We're excited to announce that we have begun the roll out of Ally eCheck Deposit! eCheck Deposit will allow you to scan and deposit your checks electronically."
Those unfamiliar with eCheck Deposit, this feature allows customers to deposit checks into your Ally Bank account anywhere you have access to a scanner. A very common feature among banks, this is a key addition for an online bank such as Ally. The feature is proven and can be considered safe and secure.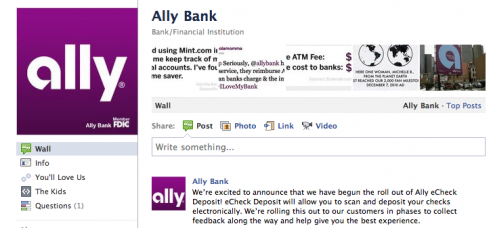 Ally eCheck Deposit Coming to Members in Phases
If you are an Ally customer who has been patiently waiting for the ability to deposit a check from home, you may have to wait a little longer. In the announcement, Ally pointed out that they would rolling this out to our customers in phases throughout 2011. An Ally representative stated on their community blog, "We'll be rolling this out in phases over the next several months to collect feedback along the way and help give you the best experience. We'll send an e-mail notification to customers letting them know when they will have access."
Earlier this month we reported that Ally bank was testing eCheck deposit, but plans for a mobile app or mobile deposit were not yet scheduled.
How eCheck Deposits Works
After submitting your check images electronically, Ally will send you an e-mail when the check has been processed. If any problems do occur with your deposit, Ally promises to notify you and ask for you to resend the check or take any additional steps. This is important to note, as you should not discard of the check until you receive confirmation from Ally.
The bank recommends that if anyone has any questions about how to use eCheck Deposit, be sure to contact them on Facebook or Twitter.
There is Ally customers among the MyBankTracker.com team and so we are working with Ally to gain access to the new eCheck deposit feature for testing purposes. Once we have had the opportunity to deposit a check, we will be sure to share our review.
If you already have access, be sure to share your experience in our comments or community.
Ask a Question