A New Way to Score a Discount: Brand Yourself With a Tattoo
Forget endorsing a brand by carrying their shopping bags or wearing their t-shirts. Ecko offers a new way to express your permanent love for their clothing brand by giving you a 20% discount for life, if you flash a tattoo of the Ecko brand.
For an everyday one-time deal, Groupon may be the popular destination but it doesn't necessarily result in returning customers for retailers.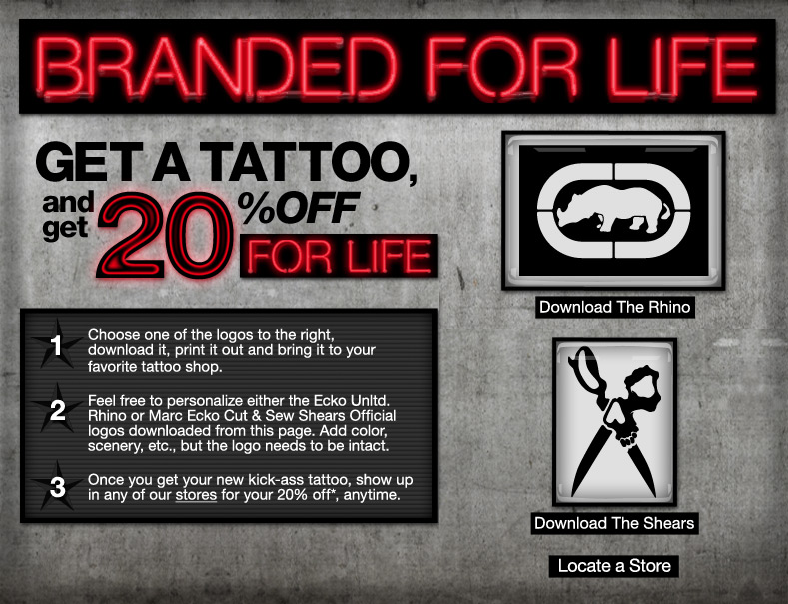 Ecko, a popular clothing brand, introduced a new discount program with an incentive for loyal customers to keep returning its stores, for life.
Customers have the option of choosing between two Ecko brand logo designs: the Ecko Unltd. Rhino or Marc Ecko Cut & Sew Shears logos. They can walk into any Ecko store and receive a 20% discount on purchases whenever an Ecko brand tattoo is presented.
According to the fine print, tattoos of the designs must be permanent and multiple tattoos do not qualify for stacked discounts. The tattoo can customized to any extent as long as the logo remains intact.
New-Age Marketing
This form of advertising is rather new to the consumer population because it was never thought of as a marketing tactic. Generally, tattoos are symbols of significant meaning or self-expression – not a lifetime coupon that is readily available by rolling up your shirt sleeves.
Whether it is a public relations stunt or a genuine strategy to cultivate a faithful customer base, Ecko is pioneering a method that could take advertising to a new level. If customers don't mind branding themselves for the sake of extra savings, consumers will become human billboards — though the idea seems unlikely to witness rapid adoption.
Imagine the possibilities if brand tattoos caught on. Hardcore fans of other brands such as tech leader Apple or fast food giant McDonald's are prime targets with unclaimed blank canvases for a marketing push. Albeit a big sacrifice, there are a rare few who are willing to get inked to show brand loyalty, even if discounts weren't involved.
Would you be willing to get a branded tattoo in exchange for a lifetime 20% discount at your favorite stores?
Ask a Question