Bank of America Q1 Profits Drop 36% Due to Foreclosure Mess
Bank of America reports declining profits as last year's foreclosure problems eat into the bank's earnings.
Bank of America (NYSE: BAC) reported net income of $2.05 billion in the first quarter of 2011, down from $3.18 billion in profits from the same quarter one year earlier, which represents a 36% drop.
The steep drop in first-quarter profits was attributed to rising costs and expenses of correcting the foreclosure mess that started during the last quarter of 2010 — when borrowers accused big banks, including Bank of America, JPMorgan Chase, and Wells Fargo, of improper processing of foreclosure paperwork that led to wrongful repossession of homes.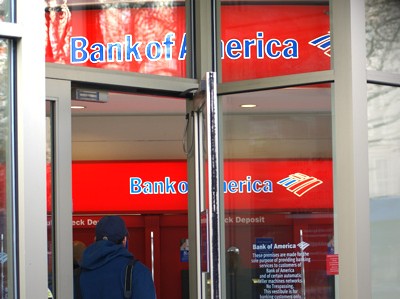 The nation' largest commercial bank lost over $2.39 billion from its mortgage business, up from the $2.07 billion loss in the first quarter of 2010. On a lighter note, Bank of America posted write-offs of bad loans on residential mortgages of $905, compared to $1.07 from a year earlier.
The deposits unit yielded a $355 million profit, which is nearly half as much from the year before. Decreased fee revenue from last year's federal regulations on overdrafts.
The bank's credit card business posted a $1.7 billion profit, compared to $963 million from a year earlier, because of lower credit costs.
Bank of America was denied its request to raise dividend payouts in late March after the Fed released the results of the latest round of stress tests. Other large bank competitors were allowed dividend hikes.
The Fed said that the bank may resubmit new capital plans in the second half of 2011.
Ask a Question