Obama: How to Cut a Federal Deficit by $4 Trillion
President Obama outlined an ambitious deficit reduction plan on Wednesday, proposing spending cuts and a tax code overhaul that is expected to cut the federal deficit by $4 trillion over the next 12 years.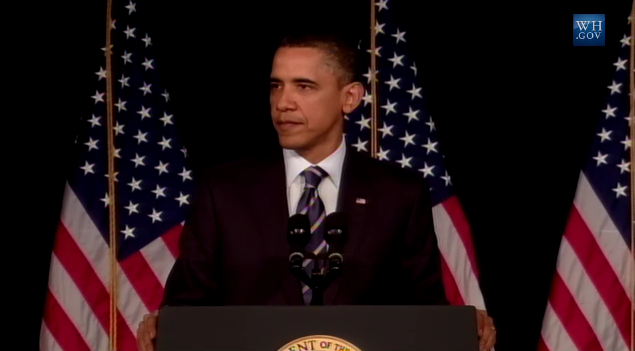 In a highly anticipated speech at George Washington University, President Barack Obama laid out his approach to reduce the federal deficit by $4 trillion over the course of 12 years – a proposal that could influence his reelection campaign.
President Obama pointed out that, currently, two-thirds of the government's budget was spend on Medicare, Medicaid, Social Security, and national security. Roughly 20% of the budget was used for programs such as unemployment insurance, student loans, veteran benefits, and tax credits. And, only 12% was left for education, clean energy, medical research, and other similar initiatives.
Per the recommendations of the bipartisan Fiscal Commission, Obama created a financial blueprint that will preserve health care to seniors, protect the middle class, and keep America in a competitive global position.
The framework for the President's goal is made up of four steps:
1. Maintain low levels of annual spending.
Obama wants to stretch the proposed budget for fiscal year 2011 that calls for $38.5 billion in spending cuts. It'll entail cutting funds for programs without compromising goals to produce jobs. He will continue to spend on medical research, clean energy technology, transportation, Internet access, education and job training to keep America competitive among an advancing global economy.
Projected savings over 12 years: $750 billion
2. Locate additional savings in the defense budget.
The President reaffirms his position that national security and America's interests around the world are priorities. But he believes that "the greatest long-term threat to America's national security is America's debt."
Secretary Bob Gates was able to save $400 billion over the last two years on current and future spending. Obama expressed confidence that such a feat can be repeated within a 12-year time frame.
"We need to not only eliminate waste and improve efficiency and effectiveness, but we're going to have to conduct a fundamental review of America's missions, capabilities, and our role in a changing world."
Projected savings over 12 years: $400 billion
3. Control health care spending.
Obama noted that the current health care reform is on track to reduce the nation's deficit by $1 trillion, a model for long-term savings in the health care budget. He wants to cap federal health spending by making improvements to Medicare and Medicare for greater accountability and efficiency.
New incentives will be introduced to health care providers and institutions to improve efficiency and advocate preventative medicine. The administration will seek counsel from doctors, nurses, medical experts, and consumers for recommendations on ways to reduce unnecessary spending and maintain access to the same standard of medical care.
Projected savings over 12 years: $500 billion
4. Impose tax code reform.
Wealthy Americans can expect to be forking over more in tax dollars. The Bush-Era tax cuts that were extended in December will be repealed.
The President said, "We cannot afford $1 trillion worth of tax cuts for every millionaire and billionaire in our society. We can't afford it. And I refuse to renew them again." Additionally, itemized deductions for the wealthiest 2% of Americans will be limited.
"But to reduce the deficit, I believe we should go further. And that's why I'm calling on Congress to reform our individual tax code so that it is fair and simple — so that the amount of taxes you pay isn't determined by what kind of accountant you can afford."
Projected savings over 12 years: $1.32 trillion
Over the span of twelve years, the plan is estimated to result in savings of $1 trillion from interest payments on America's mounting debt. In total, President Obama's proposal projects a $4 trillion deficit reduction over the next 12 years.
Crediting America's democratic governance, he says the details of the plan remain up for debate and suggestions and other ideas are welcome from "all ends of the political spectrum."
Ask a Question