Struggling With Mortgage Payments? Turn Your Home Into a Billboard
Are you struggling with your mortgage payments? Or, maybe you're just looking for a new look for your home. One company wants to paint your home free of charge. The catch? You must be willing to turn your home into a billboard.
The folks at Adzookie.com wants to paint your home, but don't expect the final product to rival anything you've ever seen on This Old House. Instead, the smartphone advertising company is enlisting homeowners that want to forgo their mortgage payments to have the entire facade of their homes turned into billboards. The payoff? For each month that the billboard stays intact, the company will make your monthly mortgage payment.
You can expect the painting process to take anywhere from three to five days, and your home must remain painted for at least three months. And, if you really like the makeover that your house has been given then you can keep it that way for up to a year. If you don't like the paint job before the three month period ends, then the company will repaint your home back to its original color.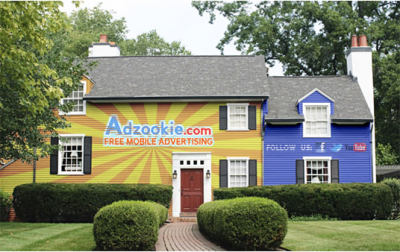 Do you think you're up to it? If so, just fill out the registration form on the company's website and if your home fits the bill they'll be in touch. Just make sure you can come up with a compelling enough reason why Adzookie.com should pick your home. And if your neighbors complain that your home is a sore to look at then just give them a copy of your monthly mortgage bill and let them pick up the tab.
And, if you're a business interested in becoming involved in Adzookie.com's interesting experiment in advertising, fill out a form on the company's website.
Check out: A New Way to Score a Discount: Brand Yourself With a Tattoo
Ask a Question