U.S. Travelers: Airlines Should Do Better Job of Disclosing Fees
When it comes to air travel, most U.S. travelers would be happier if airlines did a better job disclosing their fees, according to a new survey revealed by the Consumer Travel Alliance.
While members of Congress feverishly work on a bill that would dramatically revamp the airlines industry, 58% of U.S. travelers polled by the consumer advocacy group feel that the federal government should make legislation requiring airlines to disclose their fees a top priority. That concern even tops others like providing services to travelers that wait for an extended time to take off, the creation of a consumer complaints hotline or requiring airlines to provide email or text notifications regarding flight statuses.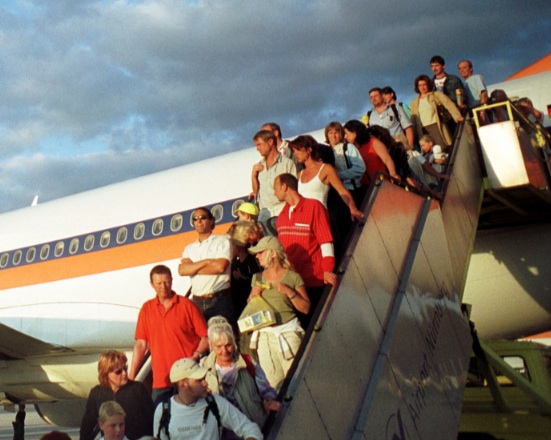 "Congress should focus on allowing airline passengers to get full pricing information and be able to compare airfares and optional fees across airlines wherever airline tickets are sold," said Charlie Leocha, director of CTA in a Wednesday statement. "It's almost impossible for consumers to compare the true cost of air travel – with more and more obscure extra fees, Congress needs to act. Transparent pricing is what makes America's free market work."
It should come as no surprise that consumers want greater protections when it comes to airline fees. According to the CTA, the airlines industry collected over $9.2 billion in ancillary fees for checked bags, priority boarding and other services. Adding insult to injury, lobbyists for the U.S. travel industry spent a total of $45 million in 2009 to have their issues heard by Congress. How much did American consumers spend? Nothing.
The federal government is currently at work on a bill that would cut $4 billion in spending on aviation programs through fiscal year 2014. The bill is also expected to negatively impact the way rail and aviation unions are able to organize.
If you're infuriated over undisclosed airline fees then head to CTA's official website to find out ways to get involved in its campaign. In the meantime, check out an original video from CTA below:
Read: Plane Ticket Prices Expected To Rise This Summer
Check out: Travel Tips That Won't Break the Bank
Ask a Question