Forget the Hotel: Rent a Whole Country for $70,000
For high-rollers with big bank accounts, the royal penthouse suite at the President Wilson Hotel ($58,000/night) in Geneva may not cut it. Instead, rent the entire country of Liechtenstein at a rate of $70,000 per night.
Airbnb, a global network of local hosts who offer travel accommodations, has partnered with Rent a Village by Xnet, an event production and marketing company, to put up one of the most outrageous offers in the hospitality and tourism industry. At a rate of $70,000 per night, you can rent the country of Liechtenstein.
Liechtenstein is a tiny country located between Switzerland and Austria and spans across roughly 62 square miles of land, which about half the size of the city of Las Vegas, Nevada. The country's population of over 33,000 lives among 11 villages.
The rental can accommodate up to 900 guests in over 500 bedrooms. The minimum stay is 2 nights, which is $140,000 right off the bat.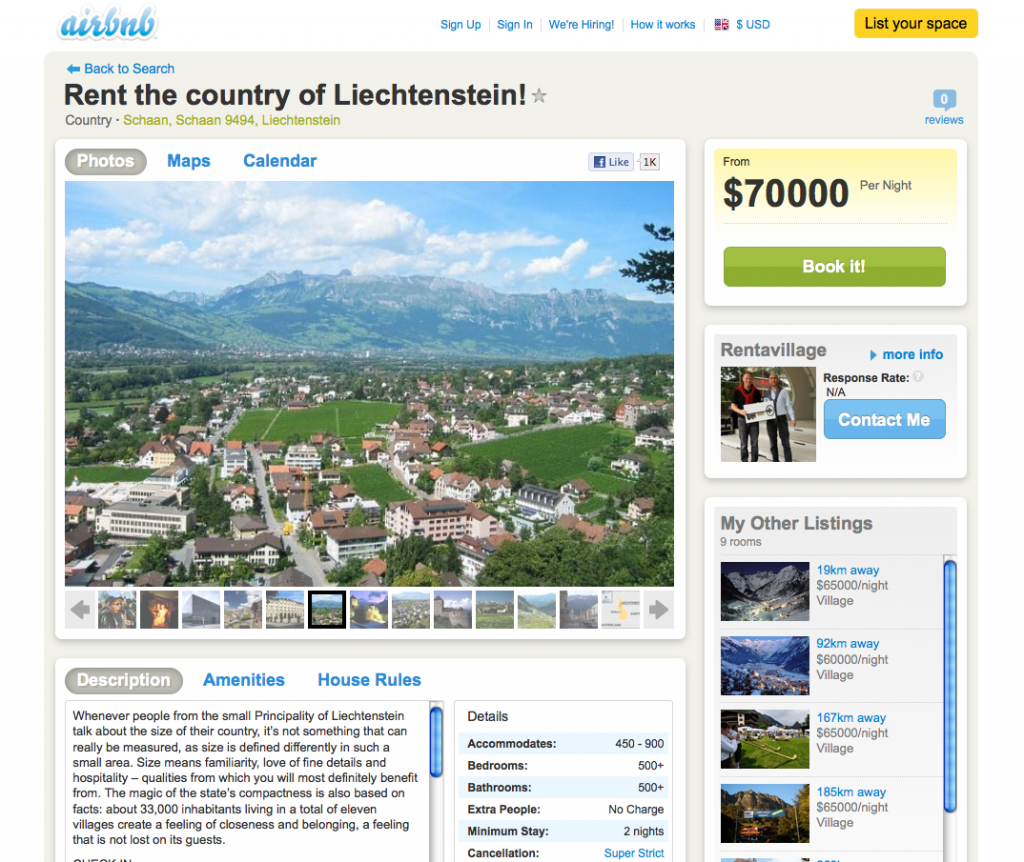 Renting Liechtenstein is an event that warrants "ceremonial flair." You are welcomed with the presentation of a symbolic key to the country. The experiences incorporates access to nearly unlimited facilities and amenities across the country.
"The villages, or the country, are transformed into the venue for the vent by branding everything from city squares and street signs, to temporary currencies, and more; drawing heavily on the local vendors and service providers to deliver an exceptionally customized experience set against the beautiful landscape of each destination."
In fact, it is such a big deal that you must book the country at least several months in advance. A detailed event plan must be drafted according to your requests. For a small group, three months time is needed to prepare. For larger groups, one year's notice is ideal.
Borrowing Liechtenstein for a couple of nights may be a ridiculous waste of money for the average person as these types of events are more focused towards "conferences, incentives, product presentations and team-building activities" – sounds great for a monstrous company retreat, and business expense write-off.
Ask a Question