Sesame Street, PNC Bank: 'F' is for Financial Education
If the characters at Sesame Street can teach generations of young children to read then it should come as no surprise that, in addition to raising million of dollars, the folks at PNC Bank (NYSE:PNC) have partnered with them to teach kids and their parents about financial education.
PNC Bank, the 11th largest U.S. bank by assets, announced last week that it has raised $12 million to expand its financial literacy initiatives targeted primarily towards preschoolers and their parents, caregivers and teachers. Of that amount, $7 million will be allocated towards an extensive public awareness campaign and the distribution of more than one million bilingual community education outreach kits featuring Sesame Street characters like Elmo and the Cookie Monster titled For Me, for Y0u, for Later: First Steps To Spending, Sharing and Saving. The remaining $5 million will be placed in a grant pool. In addition, more than will be manufactured.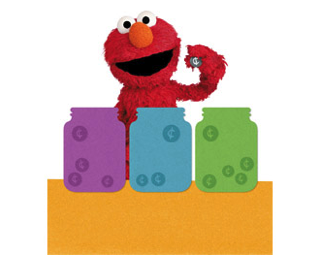 "By expanding our efforts with Sesame, we can help young children better understand that everything has value and show parents how to turn everyday moments into financial learning experiences for their kids," said the bank's chairman and chief executive officer James E. Rohr in a statement.
Read: MyBankTracker.com Joins Junior Achievement to Promote Financial Literacy
Check out: TD Bank Tool Promotes Kid's Financial Education
Learn: Financial Education: Planning By Life Stages
PNC Bank is expected to announced additional partnerships with organizations located in its 15-state region and Washington, D.C. The first two recipients of grants will be Newark Public Library, based in Newark, N.J, and Montclair State University, based in Montclair, N.J.
The bank's new Sesame Street initiative will expand the reach of its Grow Up Great program– a $100 million program launched in 2004 to improve early childhood education. To date, the program has reached more than 1 million children and provided some $30 million in grants to both non-profit organizations and PNC-funded programs to fund science, math and the arts.
Visit SesameStreet.org for more information about the program, to obtain free materials and for original videos like the one below:
Ask a Question