'Taxpayer Receipts' Show Where Your 2010 Taxes Went
Ever wondered how your individual tax dollars were spent? The White House launched a tool that will produce your "federal taxpayer receipt", listing out the government programs and services for which you "paid".
President Obama said in his State of the Union Address: "Because you deserve to know exactly how and where you tax dollars are spent, you'll be able to go to a website and get that information for the very first time in history."
Rightfully so, the White House announced the federal taxpayer receipt. A calculator lays out how every cent of your 2010 federal taxes was spent, in a format similar to the piece of paper you receive before walking out of a supermarket.
The decision to launch this tool corresponds with the end of the tax season, when taxpayers have filed their tax returns and know how much tax they've paid for the year.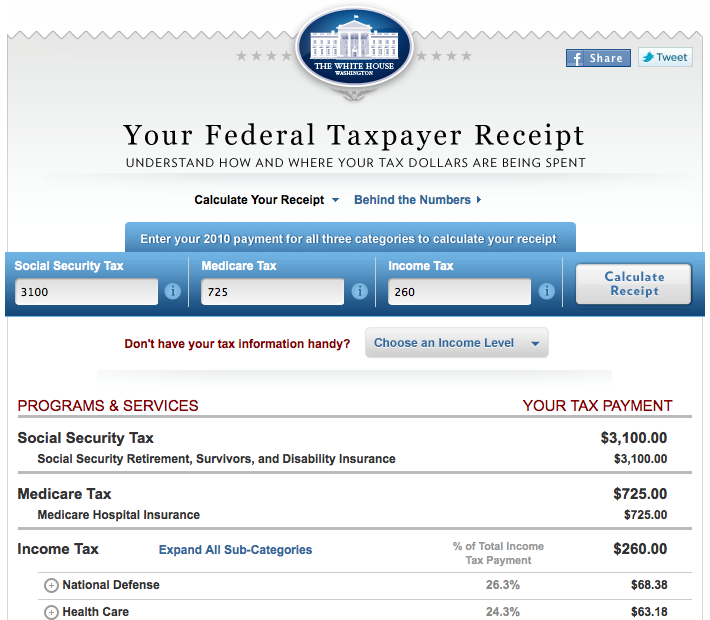 Tax information needed to create your individual taxpayer receipt include Social Security tax, Medicare tax, and income tax paid. Or, you can select from list of preset tax situations.
While Social Security and Medicare taxes are relatively self-explanatory as to where that money goes, the federal taxpayer receipt elaborates on how income tax is allocated. National defense, health care, and job and family training were the three categories that received the most funding from taxpayer income taxes – accounting for a total of 72.5%.
To see how your federal tax dollars were spent and create your own federal taxpayer receipt, visit the White House website.
Ask a Question