A Look at the Ally Bank eCheck Deposit Service
The Ally Bank eCheck Deposit service has launched and is being rolled out to customers in phases. Here's an overview into the highly-anticipated feature if you're not in the first group to try it out.
The latest development from Ally Bank that is sure to make customers happier is the new eCheck Deposit feature, which allows check deposits via a scanner. The free service launched on April 13 extends the capabilities of the popular online bank. However, the feature is being introduced to customers in phases.
Ian Revereza, a MyBankTracker.com Community member and Ally Bank customer, was among the customers in the first roll-out phase of the eCheck Deposit feature who found that it worked great. He said, "Without a doubt it is quicker than driving to a branch or ATM to make the deposit. While it may not be as easy as handing a teller your check or feeding it into an ATM, I can't think of any easier way to make a deposit online yourself."
Revereza was kind enough to provide us with some images of the eCheck Deposit service and the process of depositing a check.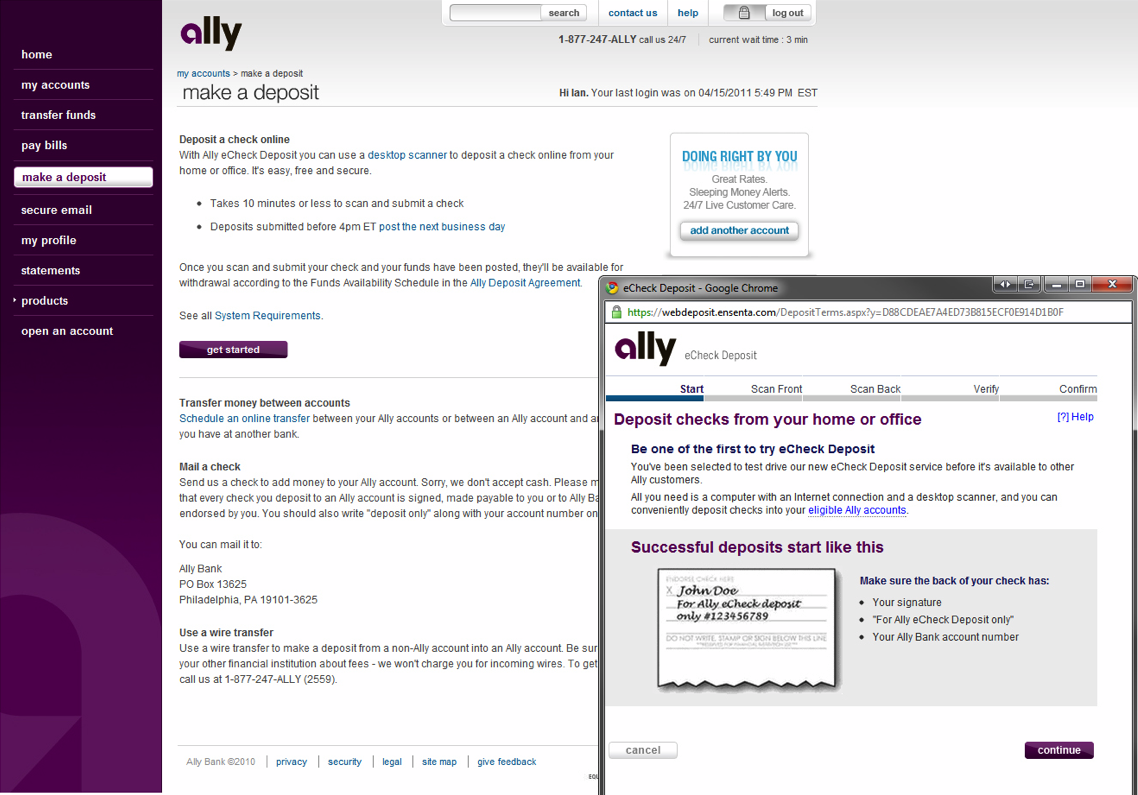 eCheck Deposit Feature: Step-by-step
The eCheck Deposit service requires a computer that has Internet connection and is hooked up to a scanner. Customers can deposit checks into an Ally Bank savings, money market, or checking account.
After logging in to your Ally Bank account, you'll find the "make a deposit" option on the left sidebar.
Click "get started" and a new window will pop up to begin a simple step-by-step process to deposit your check.
Indicate the amount on the check and the receiving Ally Bank account. The check must be endorsed with your signature and "For deposit only via Ally eCheck Deposit, Ally Bank Account #(account number)".
Proceed to scan the front and the back of the check with the following properties: Grayscale, 300 dpi, JPEG format, and file size under 1MB.
Upload the images of the check and confirm the deposit information.
Each check should be scanned and submitted in 10 minutes or less. Deposits submitted before 4pm ET will be posted on the next business day and you'll receive an email when the check has been processed.
Ally suggested holding onto the check for 60 days after it clears in case there is a dispute or error.
According to the Ally Bank Deposit Agreement, Ally has no set limit to the dollar amount or number of deposits made through the eCheck Deposit Service but limits may be imposed at anytime without notice, which will most likely be done to deter fraudulent activity.
Were you part of the first roll-out phase for the feature? What are your thoughts on Ally Bank's eCheck Deposit service?
Ask a Question