Attractive Series I Savings Bond Yields Coming in May
For the six months starting in May 2011, the rate on the U.S. Treasury Series I Savings Bonds delivers savings returns that will nearly double the yields currently available through high yield savings accounts and 1-year CDs.
The U.S. Bureau of Labor Statistics released the March 2011 economic summary on Friday that revealed the changes in the Consumer Price Index for All Urban Consumers (CPI-U), which is the benchmark indicator used to determine the inflation rate for U.S. Treasury Series I Savings Bonds.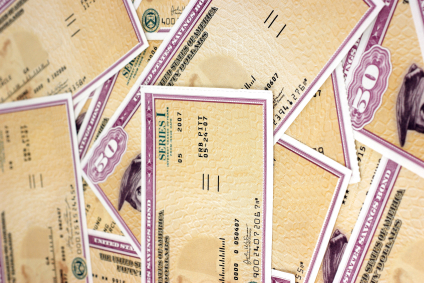 For I-Bonds, the composite rate is calculated from fixed rates and semi-annual inflation rates. The Treasury calculates the inflation rate as the CPI-U change from March to September (to determine the November inflation rate) and from September to March (to determine the May inflation rate).
In November 2010, the CPI-U was 218.439. The CPI-U for March 2011 was 223.467, a 2.3% increase from November.
I-Bond Inflation Rate at 4.60% From May to November 2011
The composite earnings is determined with the following formula:
Composite rate = [fixed rate + (2 x semi-annual inflation rate) + (fixed rate x semi-annual inflation rate)]
For May 2011, the minimum composite earning rate will be 4.60% for the six months until the next rate change in November.
The Treasury imposes a penalty on I-Bonds redeemed before 5 years' time equivalent to the last 3 months of interest. And, I-Bonds cannot be redeemed until 12 months have passed.
Assuming the fixed rate is 0% for May and the composite rate is 0% for November, you may lock up your money for 12 months to earn 4.60% during first six months. Since there will be no interest deducted (last 3 months earn 0%), I-Bonds purchases in May 2011 and redeemed in May 2012 will earn the equivalent of 2.32% APY over 12 months.
The I-Bond will yield even more earnings if inflation continues and/or the fixed rate is above 0%.
Currently, Discover Bank and American Express Bank are offering savings accounts with 1.15% APY and a 12-Month CD from Ascencia carries a 1.25% APY.
Note that I-Bonds are dated as of the first day on the month that you purchase it, regardless of what day the purchase was made. For example, you can buy I-Bonds at the end of May 2011 and redeem it in early May 2012 – you can actually redeem them in a little more than 11 months.
U.S. Series I Savings Bonds are very low-risk, savings instruments that are not subject to state and local tax. You can purchase a maximum of $5,000 in paper I-Bonds and $5,000 in electronic I-Bonds per year. Paper bonds can be bought by mail or by visiting a bank or other financial institution. Electronic bonds can be purchased at TreasuryDirect.gov or through a payroll savings program.
Do you find this to be an attractive "deal"? Will you be purchasing Series I Savings Bonds in May?
Ask a Question