Smartphones: The Future of Shopping
Late adapters soon may have to give in and trade their old, clunky flip-phones for sleeker smartphones as they become more than just a mode of communication. A new study conducted by Brand Anywhere and Luth, found that by the end of 2011 50% of US Wireless subscribers will own a smartphone.
The study titled "Marketing to Mobile Shoppers" released by Arc Worldwide, the marketing service arm of Leo Burnett, takes an in depth look at shopping habits among light mobile users to heavy mobile users.
Mobile Shopping is Here to Stay
Whether you like it or not. According to the study, when it comes to shopping in store 73% of shoppers prefer to use their phones for small in store tasks, i.e finding the price of the product. Shoppers who prefer to speak an in-store attendant are only at 15%, another sign that the customer service industry may take a big hit in the upcoming years.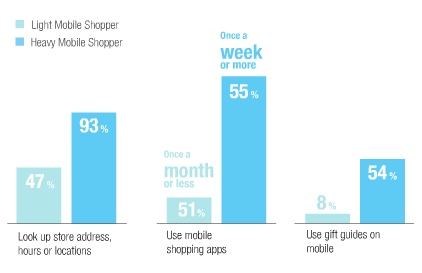 The study looked at two groups of mobile phone users; light and heavy. Light mobile phone shoppers used their phone to do simple tasks such as look at store hours and location, basically using it as a mobile computer. While heavy users, see their phone as a way to make purchases, find deals and are constantly downloading varies apps to 'experiment' with the phones capabilities.
Today's mobile shoppers fit the Generation Y stereotype of always seeking instant gratification. With mobile shopping you can make purchases with the tap of their finger, and some of the purchases are even instantly added to the phone such as music, movies, games and books.
Read: The Future of the Payment Landscape
It's hard for traditional modes of shopping to meet this sort of gratification supporting the theories that soon stores will shift to cater only to smartphone users in order to build customer-brand relationships.
Stores Need to Shift
The study also concluded that 51% of consumers would be more inclined to make a purchase from a website that caters to mobile shopping, yet only 4.8% of stores actually have mobile-specific websites. An important takeaway for stores looking to boost customer interaction is having a mobile-specific website can increase consumer engagement to 85%.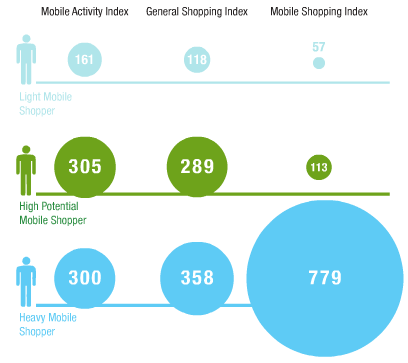 According to this study shoppers who choose to utilize their phone to make purchase, really enjoy mobile shopping. As the chart to the left indicates, heavy users outweigh light users by nearly 10x when it comes to shopping with their mobile phone.
Also 5.8% of light users are more likely to switch over to heavy users once mobile technology shifts to a more mainstream form of communication (green figures). These 'high potential shoppers' share the same increased general shopping index, which will push retailers to market towards these users and make mobile-specific websites.
Even light users, and the 40% of American's who are not mobile shoppers will eventually be steered towards that direction because of the exclusive deals and opportunities.
The important takeaway from this study is that as technology advances mobile shopping and retailer marketing will becomes a symbiotic relationship. Currently, mobile shopping is more of a fringe activity where only those who are phone savvy early adapters are able to take advantage of mobile technology.
Ask a Question