Wells Fargo Flash Mob Takes On Times Square
Who'd have thought that Wells Fargo could successfully pull off a great flash mob in the middle of one of the business cities in the world?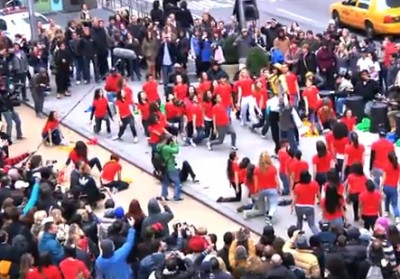 If you happened to have been in Times Square in New York City earlier this month then you probably got a free ticket to the flash mob show put together by Wells Fargo (NYSE:WFC). The drumming and dancing took place in order to celebrate the banks history in New York and the integration of Wachovia locations in the state (completed several weeks ago).
Within seconds, the already bustling Time Square changed into a musical stage and unsuspecting New Yorkers watched in awe as hoards of performers came out of nowhere, drumming and dancing for their entertainment.
For those of you unfamiliar with the history of Wells Fargo, the bank was founded on March 18, 1852 by business associates Henry Wells and William G. Fargo, who also founded American Express. The bank's first main office was located on Wall Street and later moved to Broadway, and its main business at the time included financial services, gold transport services and mail delivery to customers located in the U.S. frontier.
Wells Fargo announced in March that it would be adding 1,000 new jobs to its workforce by spring in the Mid-Atlantic region as part of its efforts to integrate Wachovia branches into its business.
At that time, the bank had already added 600 store members to its business since merging with Wachovia in 2008.
When Wells Fargo and Wachovia merged, the companies had combined assets of $1.42 trillion, $787 billion in deposits and $258 billion in assets under management. In addition, the combined financial institutions also had 10,761 stores, 12,227 ATM machines and 280,000 team members.
Read: Wells Fargo to Add 1,000 Jobs in 2011
Ask a Question