Huntington Bank Launches New Checking Accounts in 2011
Huntington Bank introduces new checking account selections comprising of only two checking accounts – keeping it simple for new customers. And, a delightful tidbit: free checking is still available.
Huntington Bank (NASDAQ: HBAN) quietly revamped its checking account offers on Sunday, April 17, according to a Huntington Bank chat representative.
Currently, new customers have the choice of two checking accounts with the bank. A spokesman for Huntington Bank said that the changes to the checking accounts represented the early stages of testing while other exciting developments are on the way.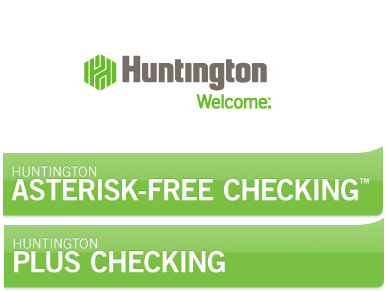 As the clock ticks towards the possible implementation of the Durbin Amendment, the bigger banks have jumped the gun in hiking checking account fees while terminating free checking – and, pushing a slew of new checking account variations.
Huntington Bank took a refreshingly simple approach by consolidating its checking account offers.
Prior to the changes, Huntington Bank offered seven different checking accounts, while the bank now offers only two personal checking accounts to new customers.
The two new checking accounts are:
Asterisk-Free CheckingTM
The Asterisk-Free Checking account is Huntington Bank's most basic checking account that has no minimum balance requirements, no monthly maintenance fees, and is "free from asterisks".
Standard features such as a free debit card, online banking, online bill pay, and mobile banking are included.
The accounts still offers the lenient 24-Hour Grace® overdraft coverage feature that allows customers to correct their negative account balance during the next business day to avoid paying overdraft fees. And, there is identity theft protection coverage of up to $10,000 in unauthorized charges.
Huntington Plus Checking
Huntington Plus Checking is ideal for customers who maintain at least $15,000 in deposits with Huntington bank. A $15 monthly checking maintenance fee is charged if the Total Relationship Core Deposit Balance is at least $15,000 (includes balances from linked Huntington money market and savings accounts).
In addition to having the features also offered with Asterisk-Free Checking, customers also get a free safe deposit box and five free non-Huntington ATM withdrawals per month with Huntington Plus Checking.
The Huntington Plus Checking earns interest in the following tiers:
| Balance | Interest Rate | APY (as of 4/10/11) |
| --- | --- | --- |
| $0.00 - $2,499.99 | 0.05% | 0.0% |
| $2,500.00 - $9,999.99 | 0.10% | 0.10% |
| $10,000.00 - $24,999.99 | 0.20% | 0.20% |
| $25,000.00 - $49,999.99 | 0.20% | 0.20% |
| $50,000.00 0 $99,999.99 | 0.20% | 0.20% |
| $100,000.00 - $249,999.99 | 0.20% | 0.20% |
| $250,000.00 - $99,999,999.99 | 0.20% | 0.20% |
According to the Huntington Bank rep, current customers should not expect any changes to their checking accounts, including the following:
Huntington Free Checking
Huntington 50 Plus Checking
Huntington High Value Checking
Huntington High Rate Checking
Huntington High Performance Checking
Huntington Investor Checking
Huntington At Work Checking
The new checking accounts apply only to new customers.
Ask a Question