Americans to Shell Out $14.6 billion this Easter Season
Money concerns won't stop American consumers on spending big for Easter this year, who are expected to spend over $14 billion celebrating the holiday according to the National Retail Federation.
Americans are not going to let economic hard times get in the way of their Easter spending, with the average consumer expected to spend $131.04 according to the NRF's 2011 Easter Consumer Intentions and Actions Survey. In fact, spending for Easter is expected to reach levels just slightly below those seen prior to the onset of the most recent economic recession, when Americans spent an average $135 on Easter merchandise.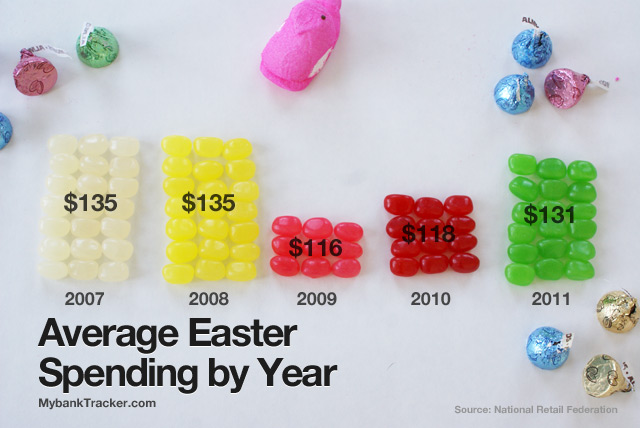 "Though lingering concerns over food and energy prices may keep shoppers from splurging, retailers are expecting consumers to stock up on apparel, home décor and of course food and candy, a good sign leading into the much busier and important months to come" said NRF President and CEO Matthew Shay in a statement.
Americans are expected to spend the most on food and candy this year, lining the pockets of retailers with $6.6 billion on these items alone. New clothing sales will also account for a good portion of the sales, bringing in $2.4 billion for retailers. Some 36.6% of consumers will visit department stores to fulfill their Easter shopping needs, while 62.6% of consumers will visit discount stores. Easter spenders will also check out deals at specialty stores (8.1%) and online stores (3.5%).
Who will spend the most on Easter this year? The biggest spenders will be those between the ages of 25 and 34 year old, who will spend $173.41 versus the $136.79 they spent last year. Closely following them will be young adults between the ages of 18-24, who will spend $145.12 versus the $125.85 spent last year. Who will spend the least? Those between the ages of 55 to 64 years old.
How much do plan to spend this Easter? Sound off in our comments section.
Ask a Question