The Citi Platinum Select MasterCard® is the most straightforward low-interest rate credit card from Citi. It's best for the minimalistic consumer not looking for anything flashy in terms of credit card.
In the early history of credit cards, extravagant perks such as cash back, miles, and a customer concierge were not part of the package. Today, there is a plethora of cards with multiple features that it causes confusion for the credit card shopper.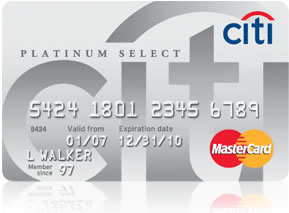 Sometimes, the simple low-interest credit card is most appropriate. The Citi Platinum Select MasterCard® is just that card.
Citi Platinum Select MasterCard® Details
With no rewards or perks for the big spender, the Citi Platinum Select MasterCard® is a no-frills credit card.
0% Intro APR on balance transfers and purchases for 21 months (based on creditworthiness).
Variable 11.99% to 20.99% APR after intro period.
No annual fee.
The standard features found in many credit cards that is also found in the Citi Platinum Select MasterCard®, including: extended warranty, retail purchase protection, car rental insurance, and travel accident insurance.
The card has a couple security features unique to certain Citicards: Citi Photocard, your photo and signature is part of the design of the card, and Virtual Account Numbers, a tool that generates substitute credit card numbers for online shopping.
Card Analysis
The 0% introductory rate is the most notable feature on the Citi Platinum Select MasterCard®, which is applied to both purchases and balance transfers for a long 21 months, if you have an excellent credit history.
Anyone looking to consolidate their credit card debt will find that introductory offer to be very attractive (3% balance transfer fee applies). At the bottom of the interest rate spectrum, a 11.99% APR is relatively low.
Some people will find an added layer of consumer safety the Citi Photocard and Virtual Account Numbers features.
Because the Citi Platinum Select MasterCard® have few properties outside of its role as a credit card, it is ideal for the fundamental credit card consumer who wants a low APR in the event a balance cannot be paid off in full. If you are in the search for minimal low-interest credit cards, consider applying for the Citi Platinum Select MasterCard®.