BB&T Launches Mobile Banking Android App
BB&T customer who are also owners of Android smartphones and tablets don't have to wait any longer to manage their BB&T accounts from a mobile device. The bank has announced the official release of its free Android application.
BB&T (NYSE: BBT) announced the launch of its free mobile banking Android application for both smartphones and tablets that run the Android operating systems.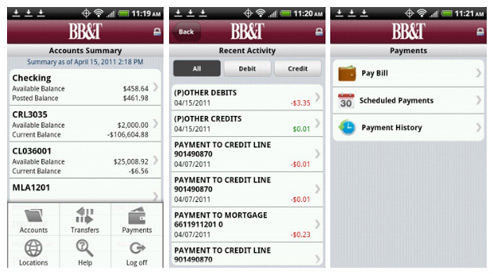 The Android app will allow BB&T customers to perform basic banking activities including checking account balances and transactions, transferring funds, paying bills, finding nearby BB&T locations, and contacting BB&T customers service.
"Today's clients are always connected and require a quick, convenient way to manage their accounts and access our banking services," said Howard Brooks, BB&T Electronic Delivery Channels manager, in a press release. "BB&T is committed to providing the most-up-to-date enhancements in the mobile arena to meet our clients' lifestyle needs and help them make the best financial decisions based on how they wish to bank with us."
Security regarding mobile banking is a major concern for banking customers. The app does not store secure information on the mobile device and account numbers do not appear on the screen. Login sessions are encrypted with automatica inactivity signoff.
BB&T customers must be enrolled for mobile banking by logging into BB&T OnLine and registering for BB&T Mobile. New mobile banking app users will undergo a verification process that required to link your mobile device to your BB&T account.
The BB&T Mobile Banking Android app is free and immediately available for download in the Android Market.
Ask a Question