Ben Bernanke Press Conference Live Streaming
For the first time ever the Federal Reserve has agreed to publicly hold press conferences in order to keep the public briefed on the Federal Open Market Committee's current economic projections.
The press conference will be conducted by Chairman Ben S. Bernanke and will take question and answer format after a brief summary of the FOMC meeting minutes released earlier today. Be sure to check in around 2:15 p.m. (EST) in order to catch live coverage of the event.
Check Out: Fed: No Changes to QE2, Interest Rates for a summary of the minutes.
This press conference maybe the first-ever, but it is definitely not the last—the Fed plans to hold four per year. The other 2011 briefings are scheduled for June 22 and November 2.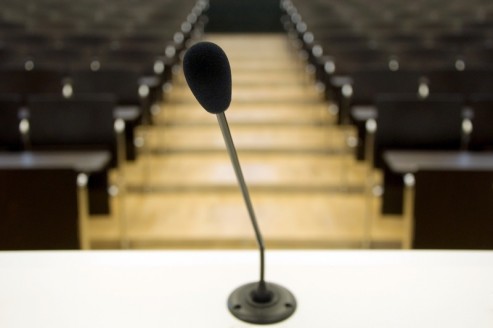 The reason the Fed has decided to go public with these press briefings for the first time in its 98-year history is mainly for transparency. Many are interested to see how Bernanke will be able to perform under pressure.
Bernanke has been under much criticism over the past few months after the introduction of QE2, a program set up to buy $600 billion of U.S. long-term Treasury Securities.
Read: Bernanke Defends QE2 on 60 Minutes
Ben Bernanke Press Conference Live Stream
Bernanke is expected to speak a lot about the economic recovery. The goal of this historic news conference is to build consumer confidence and explain that the pick up in inflation is temporary. The reason inflation is such a hot button issue is because it is a big risk with the quantitative easing program and the main reason the program is so controversial.
The Fed has vowed to regularly review the size of their bond purchases and whether or not the economy is thriving under their programs. So far there have not been any changes made to the QE2 program.
Ask a Question