Facebook Officially Joins Online Deals Market
Just when you thought there were enough daily deal websites, Facebook has gone and introduced money-conscious consumers to its own rendition of the growing trend: Facebook Deals.
Facebook announced earlier this morning that it had officially rolled out a new online service called Deals on Facebook. As of right now, the service is only available to those living in Atlanta, Austin, Dallas, San Diego and San Francisco, but Facebook says it will expand it to more cities in the near future.
How Does Facebook Deals Work?
If you're in one of the cities where Deals on Facebook launched, then you'll probably notice a Deals tab located on the homepage of your Facebook account. Similar to other daily deal sites, Deals of Facebook works by allowing customers to share deals offered by local businesses with their friends. Customers will not only have access to deals in your area, but can also find out via Facebook which deals their friends buy or like (depending on whether or not a customer's friends allow him or her to see the information).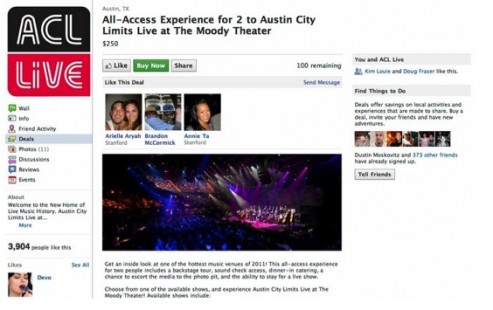 To help launch the service, Facebook said it's currently working with companies like OpenTable, Plum District and ReachLocal, which means that customers will have the ability to purchase deals featured on those websites.
Facebook Deals isn't the social media site's first stint in the world of online deals. The company launched Check-in Deals back in November, which allows customers to earn deals from local restaurants by "checking in" to the businesses using their smartphones. The service eventually expanded to Canada, France, Germany, Italy, Spain and the United Kingdom at the end of January.
Some 47% of adults have used more local deals this year than last, according to a recent survey. The current leader in the online daily deal pack is currently Groupon, which has sold close to 41 million deals since it was created back in 2008.
Read: Slash Your Coupon Search Time with Bing's Mobile Deal Tool
Ask a Question