Sallie Mae Launches Location-Based Upromise Mobile App
Sallie Mae announced the launch of a location-based Upromise mobile app that will allow members to instantly find nearby locations with Upromise savings.
Sallie Mae (NYSE: SLM) released a free mobile app featuring a location-based service that shows local savings to Upromise members.
Upromise is a rewards network by Sallie Mae catered primarily towards college students and family members. After signing up for Upromise, members can register their credit cards and debit cards and Upromise will award cash back on qualifying purchases at participating partners.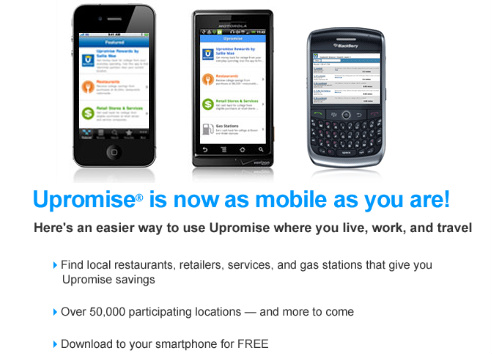 The Upromise mobile app will introduce a localized savings tool where members can browse the cash back savings, coupons, and deals at nearby restaurants, retailers, and gas stations in real-time with GPS technology.
"Students and families can view details on participating merchants, view savings offers, get instant directions and share the savings with friends via Twitter, Facebook or email."
The Upromise mobile app raises the cash back network into the ranks of Groupon, Foursquare, and Facebook while outpacing competing cash rebate programs such as Fatwallet.com and Ebates.com, which only offer cash back on purchases made online.
The Upromise network is comprised of over 50,000 participating locations, including many popular national brands and merchants. The large partnership with big-name merchants sets the Upromise apart from the tech companies, which only deliver one-time location-based deals as opposed to ongoing cash rebates.
Cash accumulated on a Upromise account can be used to contribute towards a tax-deferred 529 plan, fund a Sallie Mae High-Yield Savings account, pay down a student loan, or requested by check.
The Upromise mobile app is available for download on Apple and Android devices while Blackberry users can visit https://m.upromise.com.
Ask a Question