TD Bank to Expand Reach in Massachusetts
Boston-based customers of TD Bank, the fourteenth largest U.S. bank by assets, can look forward to more branches now that the bank plans on expanding in the city and its surrounding suburbs.
TD Bank's president announced yesterday that the bank would be adding up to 15 branches in the state by the end of 2012. TD Bank (NYSE:TD) is also considering moving a number of its branches to more ideal locations.
"It's really to grow our market share in Massachusetts,'' Mark C. Crandell, the bank's regional president, recently told Boston.com. "We think we have a compelling offering from a product, service, and convenience standpoint.'' According to Crandall, the new branches will primarily be located in the Boston region.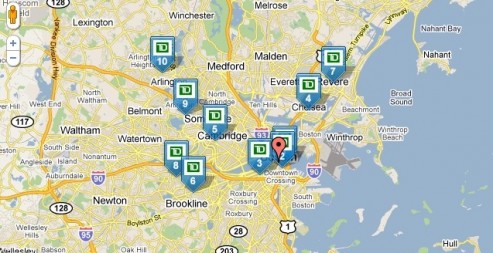 TD Bank, which is headquartered in both Cherry Hill, N.J. and Portland, ME, currently has 160 branches in the state of Massachusetts and operates 1,250 branches and over 2,890 ATMs from Maine through Florida. The bank also services more than 6.5 million customers throughout the Northeast, Mid-Atlantic, Washington D.C., the Carolinas and Florida. TD Bank also had total deposits of roughly $142 billion.
The bank is owned by Canada-based Toronto Dominion Bank. It was founded in 1852 in Portland and since grew through several mergers with banks like the South Financial Group Inc. and Carolina First Bank.
Boston and its surrounding suburbs of Cambridge and Quincy control 14.5% of the state's banking market with total deposits of $169.8 billion as of the end of 2010—making the region the second smallest banking market in the state. The state's other markets include the Providence/New Bedford Fall River region (with $47.9 billion in deposits controlling 23.6% of the market), Springfield ($47.9 billion in deposits controlling 44.2% of the market) Worcester ($11.6 billion in assets controlling 17%) and Barnstable Town ($6.02 billion controlling 0.6% of the market).
While TD Bank is in very good financial health, customers that rated the bank's services on MyBankTracker gave it just a two-out-of-five star rating overall. In five areas that included customer service and fees and charges, the bank consistently received an average two-star rating.
Discover: TD Bank to Start Charging for Transactions at Non-TD Bank ATMs
Check out: TD Bank Constructs First Net-Zero Bank in U.S.
Ask a Question