Intuit's GoPayment Drops Transaction Charges
Customers of Intuit's GoPayment service can now kiss most transaction charges goodbye—a service change that will better allow Intuit to compete with others in the mobile payments market.
Intuit, the company behind popular services like TurboTax and Mint, had decided to drop its 15 cent fee on Visa, MasterCard and Discover card transactions processed through its GoPayment service, though it will still continue to charge the fee on American Express transactions. The company will also drop its 30 cent transaction charge for business customers that pay its $12.95 monthly fee.
The decision to drop the fee was reportedly done to compete with other mobile payment providers like American Express's Serve mobile payments platform, which also dropped its transaction charges this past February.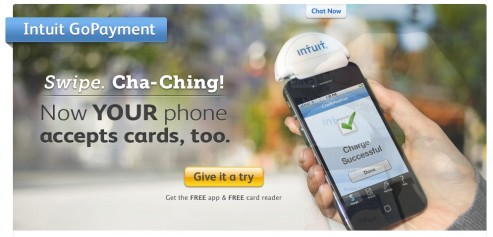 For its free accounts, Intuit's GoPayment service will continue to charge a 2.7% fee for each transaction made for swiped cards, and 3.7% for manually entered cards and "non-qualified" transactions (those that don't meet specific requirements of the Visa/MasterCard/Discover network). For its business accounts, the company will also continue to charge 1.7% per swiped transaction and 2.7% for manually entered transactions.
Non-qualified transactions have also been subject to additional transaction charges of between 22 cents to 37 cents depending on whether or not you pay a monthly fee or not, though it's unclear whether or not this will change. A representative for the company couldn't immediately be reached for comment.

Check out: American Express and Payfone Partner to Deliver New Mobile Payments Platform
Similar to GoPayment, Serve allows its customers to link their credit card accounts with their mobile phones. With Serve, a user can send and receive funds from friends, pay bills online and make online purchases. Less than a month after launching Serve, American Express announced its partnership with mobile payment processor Payfone—which allows customers to make purchase using their mobile number and pay the balance when they pay their cell phone bill.
While AmEx's Serve is ideal for customers wishing to easily make and receive mobile payments, Intuit's GoPayment service seems to be better suited for small business owners or individuals who occasionally provide services for money.
Intuit' GoPayment is a service available that allows its customers to easily make credit card payments using their smartphones and tablets through either a free downloaded app or its credit card reader. Customers can have access to Intuit's services by first setting up a free online account and linking in to your bank account. After your account has been approved, you can then accept payments by logging into your account, swiping the card you'd like to receive payments from and entering the amount of the transaction.
Once a payment is made, it takes between two to three days for the funds to be deposited into your bank account. To protect the information of those that provide you with card information, the GoPayment card reader encrypts the information collected, and card information is never stored on your phone. Meanwhile, if you lose your phone the service is set up so that an unauthorized user cannot have access to your card information.
Explore: MyBankTracker Reviews Brand New Technology from Intuit's Innovation Gallery Walk
Ask a Question