ING Direct Introduces P2P Bump Feature on iPhone App
ING Direct has introduced a new mobile app feature that allows customers to transfer funds by bumping their smartphones.
ING Direct (NYSE: ING) expands the functionality of its mobile banking application by implementing the "P2P" feature, which lets customers pay each other by bumping their iPhones.
The feature incorporates technology from the popular "Bump" application that allows users to share photos, contact, and apps when they access the app and bump fists while holding their smartphones.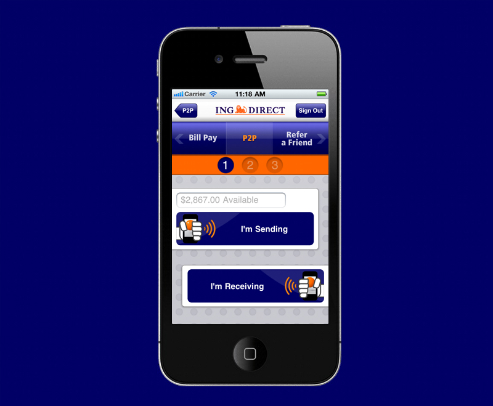 According to the Bump app's FAQ, the app uses the "phone's sensors to literally 'feel' the bump, and it sends that info up to the cloud." The bump is matched with phones that felt the same bump and information is shared between the paired phones.
On the ING Direct app, customers will now see the "P2P" tab across the top of the screen. Two customers can log into their accounts through the app, select the tab, and proceed to transferring and receiving funds. It does not require sharing each other's account numbers or email addresses.
Currently, the feature is only available for Electric Checking customers with iPhones. The Android smartphone operating system is capable of using Bump technology but the feature is not yet released for ING Direct app for Android.
The person-to-person payment functionality is being noted as an early alternative to near field communication (NFC) technology that uses chips – capable of transmitting information in short distances – to conduct transactions. Phone and technology companies have not yet adopted to widespread production of devices with installed NFC chips, which allows Bump technology to thrive in the meantime.
The Bump P2P feature will most likely start popping in more mobile banking applications, as banks try to keep a competitive edge in the banking technology industry.
Ask a Question