How Poor Customer Service Statistically Effects Your Business
It's not that American consumers can't spend their money—it's that they hate your customer service. At least that's what the folks at American Express have the say about it.
Results from a new survey released by American Express (NYSE: AXP) revealed that American consumers are much more willing to spend their hard-earned money on businesses that provide exceptional customer service now than they were a year ago.
To be more specific, 70% of American consumers are more willing to spend an average of 13% with companies they believe provided them with great customer service (just 58% of consumers were willing to spend 9% more for the same circumstances in 2009). Here are some other statistics from American Express's survey:
78% of consumers have ceased to go through with a purchase after encountering poor customer service.
59% of consumers say they would switch brands if it would provide them with better customer service
| Country | Percent More Consumers Will Spend |
| --- | --- |
| India | 22% |
| U.S. | 13% |
| Australia | 12% |
| Canada | 12% |
| Mexico | 11% |
| U.K. | 10% |
| France | 9% |
| Italy | 9% |
| Germany | 8% |
| Netherlands | 7% |
Tempers Can Flare:
Losing business is just one negative effect businesses can experience as a result of providing poor customers service. Angered outbursts and the occasional explicative can also arise when poor customer service prevails, and those between the ages of 30 to 49 are more likely than any other age demographic tracked by American Express to lash out at representatives.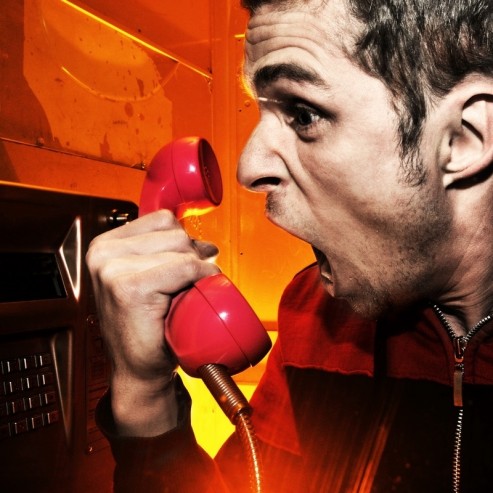 Surprisingly enough, young adults between the ages of 18-29 seem to have more patience when it comes to speaking with customer service professionals, with 54% of them saying they've never lost their temper.
If you work in customer service and you've managed to piss off a customers (or, have the pleasure of speaking with an irate customer), then you can expect them to react in one of three ways:
74% of those customers will ask to speak to a supervisor.
44% of them will simply hang up the phone.
39% of customers will likely threaten to switch to a competing company.
Read more: Customer Service More Important Than Fees, Says J.D. Power Survey
Learn: The Future of Customer Service Professions
Branding Also Matters:
Customer service isn't the only thing driving Americans to spend more—the simplicity of a company's brand can also provide additional weight. Survey results released this past February showed that American consumers are willing to pay an additional $27 billion (or, 6% more) to splurge on brands they believe can simply both their in areas that included reducing stress levels, saving money, convenience and improved lifestyle.
Discover: Americans Willing to Pay $27 billion on Simpler Brands
What are some of the most simplest brands ranked by American consumers? For American consumers Netflix topped the list, followed by sandwich chain Subway, McDonald's the (the world's simplest brand, according to the survey), Dunkin Donuts and Burger King.
What improvements could a business (banks, retailers, etc.) make to make you spend more? Leave a comment below and let us know. And if you haven't already, let us know what you think you think of your bank's customer service by leaving a review with MyBankTracker.com.
Ask a Question