Bank of America Native iPad App Now Available
Bank of America® quietly released a native application for the immensely popular Apple iPad device with an improved mobile banking experience to boot.
Bank of America® (NYSE: BAC) launched its free, native iPad application that doesn't simply resemble an expanded version of the iPhone app.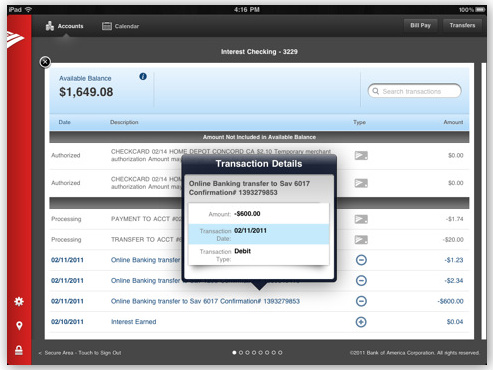 Due to the advantage of increased screen real estate, the Bank of America® iPad app offers an enhanced banking experience compared to smaller mobile devices.
Highlighted features in the new app include: an enhanced calendar display of eBills, transfers and Bill Pay transactions, account balances and activity are presented in an easy-to-read ledger format, and a quicker process to perform transfers and bill payments.
Overall, the app drifts closer to an online banking experience while remaining simple and intuitive with a polished design.
BofA Advances in Tech
The largest bank in the U.S. has been touted as a leader in online banking but Bank of America® is now showing signs of an aggressive expansion in mobile banking technology amid explosive growth of smartphone and tablet devices.
The release of the iPad app came on the same day that the North Carolina-based bank introduced its Windows Phone 7 app – Bank of America® is the first bank to launch a native app for the new competitor in smartphone platforms.
In other areas, Bank of America® is testing NFC technology for mobile payments with BlackBerry devices. Also, the banking giant is in the development phases of a mobile checking deposit feature that is expected to be available to customers in 2012.
With native applications released on two popular mobile device platforms, Bank of America® can cater to more of its increasingly tech-adept customers.
Ask a Question