The State with The Most Savers Is…
Which American states are home to the best savers? Which states have worst savers? A new study shed some light on the matter, and you may be surprised to find out just who did and didn't make the cut.
While the average amount American consumers have in savings accounts hovers at $5,753, a number of states went well beyond the national average, according to survey results released by software and services company Pitney Bowes Business Solutions. States that saved above the national average included the garden state of New Jersey ($7,477), Connecticut ($6,914) and Massachusetts ($6,847). The states that ranked the lowest were Nevada ($4,794), New Mexico ($4,515) and Arizona ($4,466).
Here's a map showing how the rest of the country did:
savings accounts" src="https://d187qskirji7ti.cloudfront.net/news/wp-content/uploads/2011/05/savings-accounts-e1304434224313.jpg" alt="" width="493″ height="212″ />
The survey also tracked how consumers across the country did when it came to funding interest-bearing checking accounts, with the national average resting at $2,947. Again, New Jersey, Connecticut and Massachusetts came out on top with residents of each state holding an average of $4,245, $3,933 and $3,811 in those accounts, respectively. In comparison, Kentucky ($2,265), Arkansas ($2,259) and West Virginia ($2,174) held the least amount of funds in their interest-bearing accounts of all the U.S. states.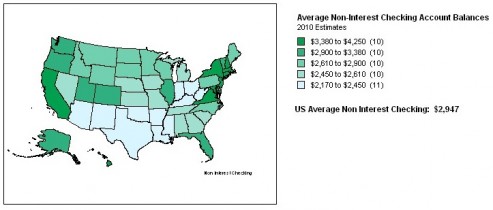 All told, savings account holders in New Jersey, Connecticut and Massachusetts surpassed the national saving average by between 20 to 30 percent, and surpass the national average held in non-interest checking accounts by nearly 30-45 percent.
Comparing account balances is just one way to analyze the saving habits of American consumers, as the survey notes. Retirement accounts like IRAs and 401(k) accounts also provide great ways for consumers to save money.
Read: How to add to your emergency savings account
Check out: Top 4 Free Checking Accounts at Online Banks
If you're not in the habit of saving, then there's no better time than now to start. Compare checking and savings accounts offered by hundreds of financial institutions across the country with MyBankTracker.com to find the product that's right for you.
Ask a Question