Chase Mobile iPad App Updated With QuickDeposit
Chase has enhanced its mobile banking iPad app to offer many of the capabilities that customers also found to be useful on its app for iPhones.
Chase (NYSE: JPM) released a new update of its Chase Mobile iPad application that sports an optimized interface to take advantage of the tablet's larger screen real estate.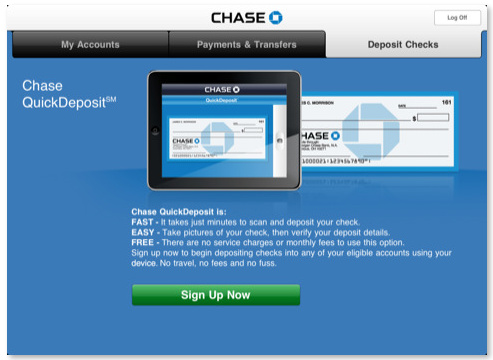 The previous version of the app simply resembled a blown-up version of its Chase Mobile app for the iPhone, without the mobile check deposit feature. With the new update, Chase customers with iPads can now utilize the camera to deposit check remotely with the QuickDeposit feature, which was available on the iPhone since July 2010.
The user-interface received major improvements that boasts a better tablet banking experience. In addition to the standard mobile banking capabilities, customers can now check pending credit card transactions and credit card and debit card rewards balances.
Finally, the app is now integrated with the "Maps" function so customers can locate and get directions to a nearby Chase bank branch or ATM without leaving the Chase app. Before, the app simply transferred location information to the "Maps" application.
Many of the big banks are still playing catch-up to Chase's lead in the mobile application front. Bank of America® has just launched its own native iPad app while Wells Fargo and Citibank do not have native iPad apps.
USAA and State Farm Bank are two other banks that have developed an iPhone app with remote deposit capture but Chase leaps forth as the first bank to offer the mobile check deposit feature on the popular Apple iPad tablet.
Ask a Question